Vegetable Rawa Idli ( Vegetable Semolina Idly)
Goodness of vegetables in homemade idlis !!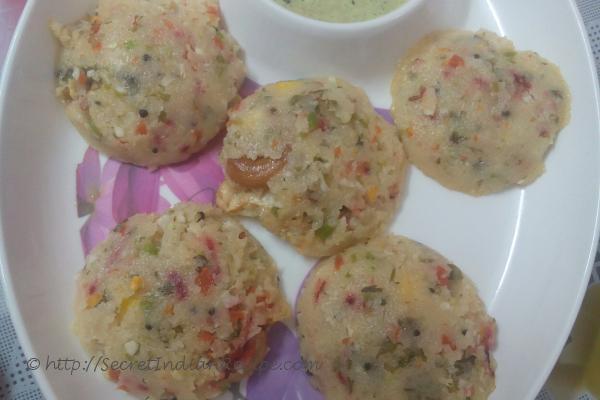 Ingredients:
1. Semolina/Sooji – 2 cups
2. Yoghurt – 1 cup
3. Eno – 1/2 Tspn
4. Mustard seeds – 2 Tspn
5. Urad Dhuli daal (Polished Black gram)- 2 Tspn
6. Veggies finely chopped – carrot, onion, capsicum, cabbage
7. Boiled corns – 1/4th small bowl
8. Curry Leaves – 8 to 10
9. Roasted/fried cashews (broken into 2 pieces) – 10 to 12
10. Green chilly (finely chopped) - 1
11. Ginger (grated) – ½ inch
12. Coriander leaves (chopped) - optional
13. Water – as required
14. Salt – to taste
15. Red chilli powder – to taste
16. Asafoetida – 1 pinch
17. Cooking Oil – 1 Tspn
Directions:
In a bowl, mix semolina, yoghurt, veggies, cashews, chilli, ginger, coriander, water, salt, red chilli powder and asafoetida to make a smooth batter. It should not be too thin or thick, and should flow well when dropped from a little height.
Make a tadka of oil, mustard seeds, curry leaves and add in the batter.
Just before making idlis, add little eno to the batter. Mix it well, and pour the batter into idli stand. Note – Adding eno is purely optional and depends on the sourness of the curd.
Place the idli stand in microwave for approx 4-5 minutes.
To check if it is cooked well, pierce a knife in the middle of the idli, and it should come out clean. If there is any batter sticking to it, then put the stand in microwave for another 1-2 minutes.
Serve hot with ketchup/coconut chutney and enjoy.