Vegetable Thepla ( Gujrati Thin Crust Roti)
Every gujarat's most favourite dish "THEPLA" but with advanced version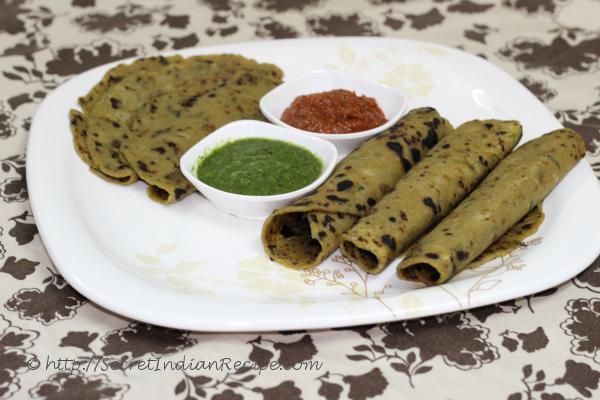 Ingredients:
|| Ingredients for Vegetable Thepla||
Wheat Flour- ½ kg
3 raw cooked Bananas
1 cup chopped and boiled French Beans
1 cup boiled Green Peas
2 tsp Garam masala
1 tsp paste of Green chillies and Ginger
2 tbsp lemon juice
1 tsp Oil
Salt – to taste
Chopped Coriander
|| Ingredients for Sundhanu (Raw mango chutney) ||
1 raw Mango
100 gm Jaggery
1 tbsp red Chilli powder
Salt – to taste
Directions:
Grind raw bananas, boiled green peas and boiled french beans ad keep aside.
In wheat flour, add all the vegetables mentioned in ingredients, oil, garam masala, paste of green chilli and ginger, lemon juice, chopped coriander and salt to taste and prepare dough.
Add water if necessary. Make small balls of the dough and roll it with a rolling pin in round shapes.
Cook on medium flame in a roti pan. Serve Hot with Sundhanu and Green Chutney.
Preparation of Sundhanu: Grind well raw mango, jaggery, chilli powder and salt to taste in a grinder. Add water if necessary. Store it in fridge, you can also have it with Parathas and roti.