Vegetarian Fried Rice
Vegetarian fried rice is a main course dish. This recipe is an Indian adaptation of the original Chinese cuisine. Here the sauces and vegetables used are according to Indian taste. It is quick recipe suitable for surprise guests.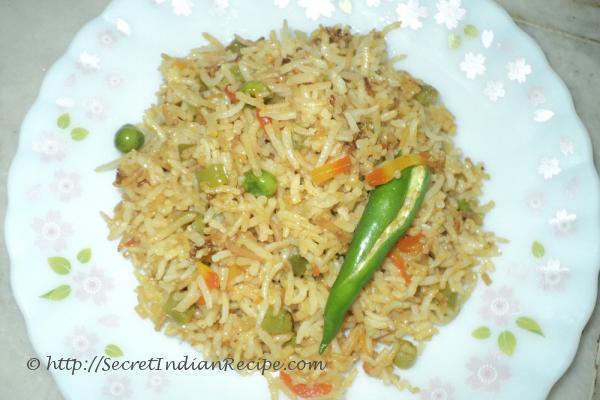 Ingredients:
Rice 200 grams (7 ounce, soaked for an hour)
Carrot 1 piece (chopped)
Beans 1 cup (chopped)
Capsicum 1 cup (chopped)
Ginger 1 tablespoon (chopped)
Refined oil 5 tablespoon
Chilli sauce 2 tablespoon
Soya sauce 1 tablespoon
Vinegar 1 tablespoon
Salt 1 tablespoon
Directions:
Cook rice and then marinate it with chilli sauce, soya sauce and vinegar for 20 mintues.
In a karahi heat oil and add ginger, carrot and beans. Cover the karahi with alid and cook the vegetables on low flame for 5-6 mintues.
Check if the vegetables are done.
Then add capsicum, salt and the marinated rice and sauté for another 5 mintues. Vegetable fried rice is ready. Garnish it with spring onion and serve with vegetarian Manchurian.