Vegetarian Pulao
This is my favorite dish and very easy to make. You can use any one vegetable or combine a few of your choice.I like the peas so I used this in it.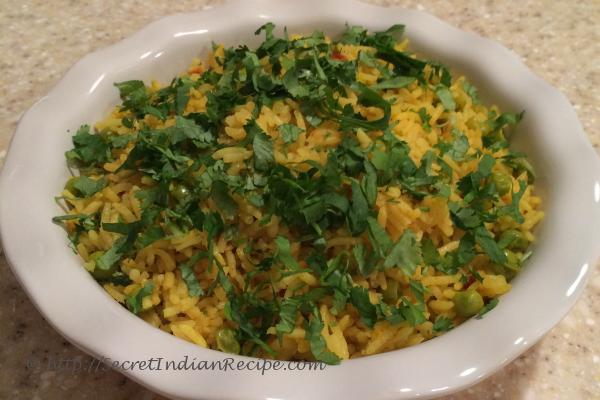 Ingredients:
1Cup, Rice Wash and remove the water thoroughly and set aside.
Shortening /Dalda 2 tbsp or use oil per preference
one medium onion finely chopped
Green Masala 3 tbsp
1 tsp turmeric
Salt to taste
1/4 tsp garam masala
1 medium fresh tomato chopped
1 Cup Frozen peas
Chopped fresh coriander for garnishing
3 tbsp Ghee
Directions:
In heavy bottom large (10") frying pan heat the shortening till hot. Add the onions and sauté on low heat till golden brown.
Add green masala and fry few seconds,then add the turmeric and garam masala and stir few seconds more to release the aroma. Add salt to taste
Add tomatoes and let cook for few minutes
Add the rice and saute till coated with the mixture.
Add peas stir together
Add enough water to cover and cook the rice. Bring to boil then lower the heat and cover and cook till the rice and peas are done.
Drizzle the liquefied ghee on the rice once it is cooked and stir to mix.
Sprinkle with fresh chopped coriander and serve hot.
Footnotes:
Green Masala: 4- 5 cloves of garlic, 1" piece ginger peeled and chopped, 1/2 cup fresh coriander leaves loosely packed, 1 or 2 fresh green chili pepper, ¼ tsp whole black pepper, whole cumin seeds 1 tsp, 1/4 tsp whole mustard seeds. Put all this in blender and blend to paste , do not add too much water when blending