Vendakka Mappas ( Okra In Coconut Milk)
I never knew the name of this curry for years. And then one fine day I asked my grand mom what was our menu for lunch and she told me mappas ! I had a hearty laugh only to realize I was unaware of the name of a delicacy my family had been cooking for years. Mappas is a lightly spiced curry cooked with coconut milk. This curry used the milk and not ground form of coconut.The same recipe goes for other vegetables, meat and fish.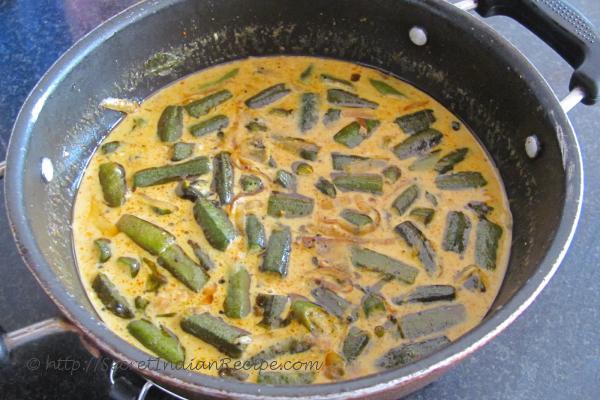 Ingredients:
Okra- 200 g
Onion- 1
Green chilies- 2
Ginger- 1 inch piece
Curry leaves- 1 sprig
Mustard seeds- 1 tsp
Oil- 3 tbsp
Turmeric powder- 1/2 tsp
Coriander powder- 1 tbsp
Chili powder- 1/2 tsp
Garam masala- 1/2 tsp
Vinegar- 1 tsp
Thin Coconut Milk- 1 cup
Thick Coconut Milk- 1 cup
Shallots- 3
Directions:
Cut the okra into 4 cm long pieces. Shallow fry them in oil and set them aside on a plate.
Heat some oil in the same pan. Add chopped onion, ginger and green chilies.
Saute till the onions brown.
Once the onions brown add the spice powders and saute for 5 minutes.
Now add the thin coconut milk and salt and bring it to a boil.
Add the shallow fried okra and let it cook in the gravy for 5- 8 minutes. Add the vinegar at this point.
Once the okra had infused with the gravy add the thick coconut milk.
Once the curry comes to boil after adding the thick coconut milk, it is done take it off the stove.
For tempering, heat oil in a pan add the mustard seeds and curry leaves. Once the mustard splutters add the finely chopped shallots.
When the shallots brown add it to the curry and take the curry off the stove. Serve with rice or rotis.
Footnotes:
Refrigerate after the curry cools down if you do not plan serving it on the same day. Instant coconut milk powder can be used for preparing this curry.
Use three packets and add them together instead of following instructions for thick and thin coconut milk. A 200 ml coconut milk in tetra pack would also serve the purpose.
In traditional Kerala recipes instead of cooking the vegetables in water,thin coconut milk is often used as this imparts more flavor. Thick coconut milk is done by extracting the milk from coconut by squeezing it or my running it in a grinder and then sieving it.
The leftover scrap from which coconut milk was extracted is mixed with a cup of water and pressed again under a sieve this milk is thinner than the first one and is hence called 'randam pal' or 'thin milk'. Cooking the okra in this would flavour it differently from cooking it in 1/2 cup of water.
Tempering this curry is optional but if you do it, it lends a special flavor.