Vendakka Ularthiyathu (lady's Finger Fry)
Vendakka Ularthiyathu is a traditional dish from Kerala. It is an easy and simple recipe to make side dish for rice. This is one of my favorite recipes. It has a yummy taste. Some Lady's finger is very sticky. For removing that stickiness we can add lemon juice.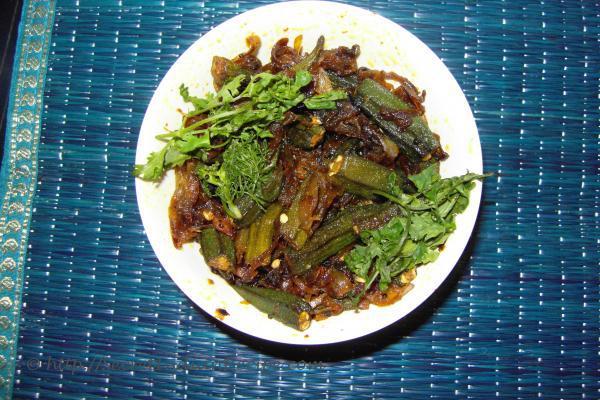 Ingredients:
Vendakka- 200 grams
Onion chopped- 1/2 cup
Tomato chopped- 1/2 cup
Chilli powder- 1 tsp
Turmeric powder- 1/4 tsp
Coriander powder- 1/2 tsp
Salt -to taste
Coconut oil-2 tsp
Directions:
Wash and dry the Vendakka thoroughly. Cut them into thin slices.
Heat oil in a pan add onions, green chillies and salt stir for 2 minutes until onion become little brown color.
Add tomatoes saute for 2 minutes, and then add chilli powder, turmeric powder and coriander powder.
Stir some more time, then add Vendakka, fry for 20 to 30 minutes till it changes its color and becomes crispy.
Now Vendakka Ularthiyathu is ready to serve.
Footnotes:
For removing the stickiness of Vendakka we can add lemon juice.