Vendhaya Kuzhambu - (fenugreek Curry) Methi Seeds With Roasted Garlic Curry
Methi seeds are known for its medicinal properties like stimulating hair growth, good for hormonal balance, lowers cholesterol etc. The best way to make your children have methi is to use it in curry. Try this out and you will prepare this curry repeatedly for its health benefits and taste.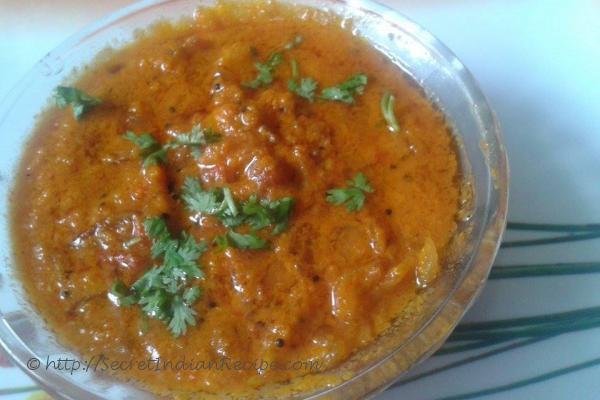 Ingredients:
Methi (Fenugreek) - 1 tbsp.
Coconut - half a cup (chopped)
Garlic pods - 10 peeled
Onions - 1/4 kg
Tomatoes - 1/2 kg
Mustard seeds - 1/2 tbsp.
Cumin powder - 1 tbsp.
Chili powder - 1 tbsp.
Coriander powder - 2 tbsp.
Green chili - 1 sliced
Turmeric powder - 1/2 tsp.
Urad dal - 1 tbsp.
Curry leaves
Salt - as per taste
Vegetable oil - 3 tbsp.
Water -1 cup
Ginger and garlic paste - 1 tbsp.
Directions:
Place a pan on low flame and add methi seeds, roast till they turn brown. Remove from flame and grind in a mixer to make a fine powder, keep it aside.
In the same pan add one tbsp. of vegetable oil. Keep gas on low flame, add peeled garlic pods and roast, till they turn golden brown, once they turn golden brown remove carefully and place them aside.
Add urad dal in the same pan and saute it for few seconds till it turns into light brown. Once the colour changes remove it and keep it aside
Now add chopped pieces of coconut to the mixer along with urad dal and grind it to make a fine paste and keep aside. Grind the tomatoes to a fine paste and keep aside.
Now place a curry pan on medium flame and add remaining oil, once oil is hot add mustard seeds, curry leaves and finely chopped onions and saute it till it turns golden brown.
As soon as the onions change its colour, add ginger and garlic paste, green chili and saute it for 2 minutes. Now pour the tomato paste and add chili powder, turmeric powder, coriander powder and salt. Stir this mixture for few seconds.
Add a cup of water to this mixture and place the lid on top of vessel. Leave it to cook for 10 minutes until it turns to a thick curry.
After 10 minutes, add the ground coconut mixture to the curry and leave it for 2 minutes. Sprinkle the powdered methi on top and saute it for 2 minutes.
Garnish it with finely chopped coriander leaves and remove it from flame.
Serve it hot with rice, chapathi, dosa or idli.