Veppila Chammanthi Podi ( Curry Leaves Chutney Powder)
The aroma of this chutney powder reminds me of my maternal grandmother. I have often seen her prepare this for her sons and daughters who came home from abroad. We took our share to the Middle East and this was so much part of our family tradition to carry this back every time, I just could not imagine how easy it was to make this chutney powder, though each person gives a personal touch to this chutney powder, I am happy with my version. Curry leaves is believed to help in digestion and is considered good for the hair.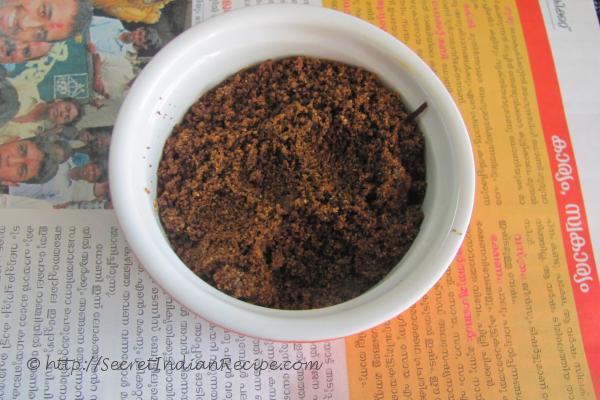 Ingredients:
Grated Coconut- 2 cups
Dry red chillies- 20
Coriander seeds- 1 tbsp
Whole pepper-1 tbsp
Curry leaves-2 handfuls
Fenugreek seeds- 1 tsp
Tamarind-a lemon size
Salt to taste
Garlic-10 cloves
Pepper corns- 10
Directions:
Heat a pan and dry roast all the ingredients till the grated coconut turns dark brown. Please take care not to burn the coconut because this will turn the chutney powder bitter.
Let the roasted ingredients cool down. Grind this mix with salt and tamarind and the chutney powder is ready.
Store this chutney powder in an airtight container. This chutney powder is usually had with rice.
This chutney lasts more than a year and does not require refrigeration.