Vermicelli Pulao (breakfast Recipe)
Sevai upma is a common recipe, I have taken it a notch higher by adding pulao masala to my recipe to make vermicelli pulao. Usually I add cauiflower and beans too but when for breakfast I just use onions, peas and carrots to make it quick. Here's my version of Sevai Pulao recipe for #powerbreakfast contest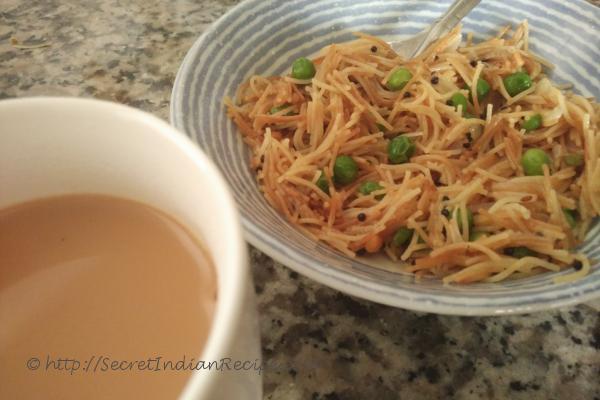 Ingredients:
Sevai (Vermicelli) 1/2 cup
Hot water 1 cup
Carrots and onions: 1 each
Peas: Handful
Mustard Seeds 1/4 Tsp
Urad dal: 1/4 Tsp
Green Chili split: 1
Salt & Sugar to Taste
2 tbsp Oil
Pulao or Biryani Masala 1 Tsp
Ghee 1 tsp
Directions:
Heat a pan and dry roast sevai for 2 mins.
Remove and set aside.
In the same pan heat oil, add mustrad seeds, green chilies and urad dal. When the seeds start spluttering add onions, peas and carrots. Add 1/2 tsp of salt, 1/2 tsp of sugar and pulao or biryani masala (I use Everest masalas)
Mix well and cook covered for 2 mins on medium heat.
Now add the roasted sevai and mix well. Keep stirring for a min.
Add the hot water mix a little salt and sugar (about 1/4 tsp each- or as per taste) and cook covered for 3-4 mins on slow flame.
Stir in between once or twice.
When sevai is cooked and all water is absorbed. Turn off the heat.
Add ghee and mix well. Keep covered for 2 mins before serving. This allows the sevai to fluffup well.
Garnish with coriander and serve hot with tea for breakfast