Vrat Ka Kheera Pakora (fasting Food - Stuffed Cucumber Fritters)
Cucumber is a magical fruit in times of fasting. It is high on water content and fibre which helps to keep your appetite under control during fasting. It is always advisable to eat it raw and preferably with the peel but what if you have fussy eaters like your kids or have old people who find it hard to chew. Well you can always make some Cucumber soup or yammy pakoras of Cucumber.
These are stuffed Pakoras and hence quite filling. The stuffing is made of Paneer and Potatoes which you can eat during fast. Addition of roasted cumin and red chili powder is enough to make it spicy but you can sprinkle some freshly grounded black pepper powder over hot pakoras also.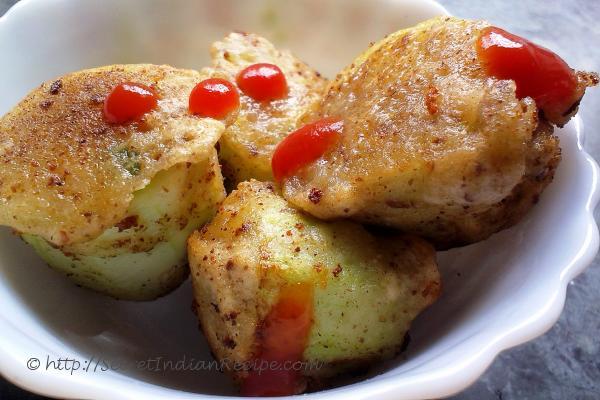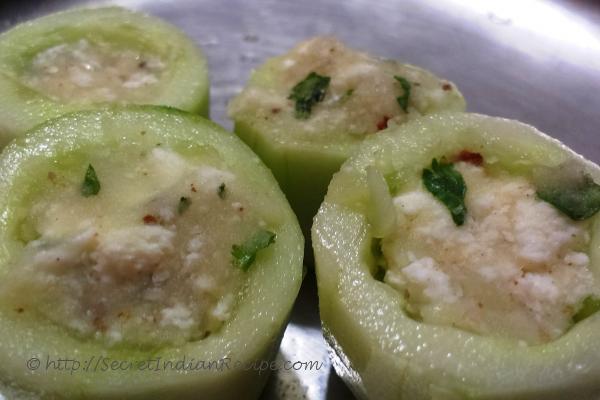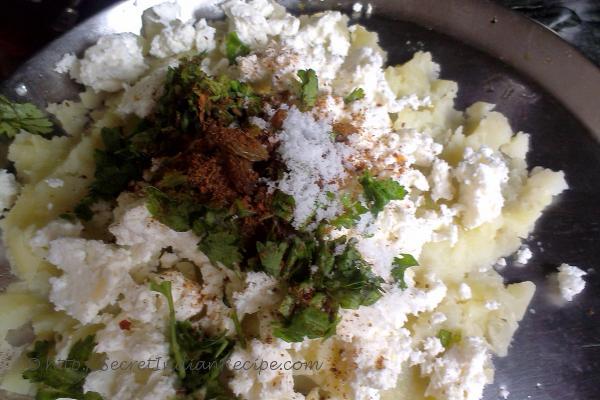 Ingredients:
Kheera (Cucumber) – 2 pieces
Paneer (Cottage cheese) – 25 grams
Boiled Potato – 1
Green chili – 1-2 chopped finely
Coriander leaves – 1 tablespoon chopped finely
Roasted Cumin and red chili powder – 1 tablespoon
Fasting salt – as per taste
Singhara atta (Buckwheat flour) – ½ cup
Oil - to fry Pakoras
Directions:
Peel the cucumber and cut them horizontally into 3 inch long pieces. Scoop out the seeds to make place for stuffing and keep aside.
To make stuffing, combine paneer, bolied paneer, chopped chilies, half of roasted cumin and red chili powder and required salt in a bowl. Mash with your hand all together to make a smooth dough. Take small portions of this stuffing and fill in the cucumber.
To make batter, take Singhare ka atta in a bowl. Mix remaining roasted cumin and red chili powder and salt to taste. Add required water and make a semi thick batter. Note, Singhare ka atta does not absorb water so add very little water to make the batter.
Now heat oil in a pan on medium flame. Dip each stuffed cucumber piece in batter and put in hot oil to fry. Put the flame low to allow cucumber to become a bit tender. Once the pakoras have turned golden, take them out on a plate.
Serve hot with Coriander or Tamarind Chutney.