Vrat Ka Paneer Pakora (fasting Cottage Cheese Fritters)
Fasting is a very integral part of Indian religious rituals. In northern India for example women fast during ' navrathri' (A festival for Goddess Durga), in western India like in Maharastra, people keep fasting during 'Ganesh Chaturthi' (Festival of Lard Ganesha), in Southern India also fasting is essential before many religious ceremonies. According to Indian mythological texts, the food eaten during fast should be Satvik food; food rich in dairy products like milk, paneer, fruits and certain vegetables like potatoes, raw banana. Onion and garlic and eating food grains like rice, wheat are strictly prohibited. Here is simple paneer recipe, which is easy to make and is purely Satvik.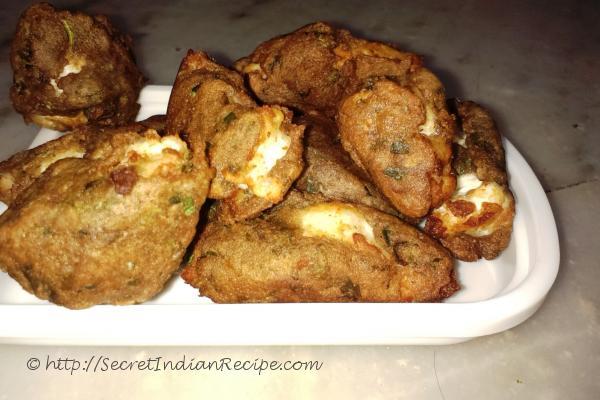 Ingredients:
Paneer (Cottage cheese) – 200 grams
Singhara atta (Buckwheat flour) – 50 grams
Sendha namak (Fasting salt) – As per your taste
Green Chillies – 2-3 chillies
Green coriander leaves – 1 bunch
Refined oil – For Frying
Directions:
Cut the paneer in square shape or in thin slices and keep aside.
Wash the green chillies and coriander leaves and chop them finely.
Take a bowl and pour the buckwheat flour in it. Add the sendha namak, chopped green chillies and coriander leaves and mix.
Now add little water and make a dough……In usual paneer pakora we make a batter of besan (Gram flour) or corn flour but Buckwheat flour does not have any elasticity to if you make a watery batter it will not stick to the paneer and hence we make a dough instead of batter.
Take small portion from the buckwheat dough and a piece of paneer. Spread the dough portion like a thin sheet and then wrap the paneer piece in it. Follow the procedure for rest of the paneer pakoras.
Heat oil in a pan and then put the paneer pakora in batches. Fry over medium heat till the pakoras turn golden brown…… this will take 3-4 seconds… Buckwheat flour takes less time to cook.
Take out the fried pakoras and serve hot with fasting coriander chutney.