Walache Bhirde( Sprouted Val Bean Curry)
Walache Birdhe is an extremely popular bean gravy.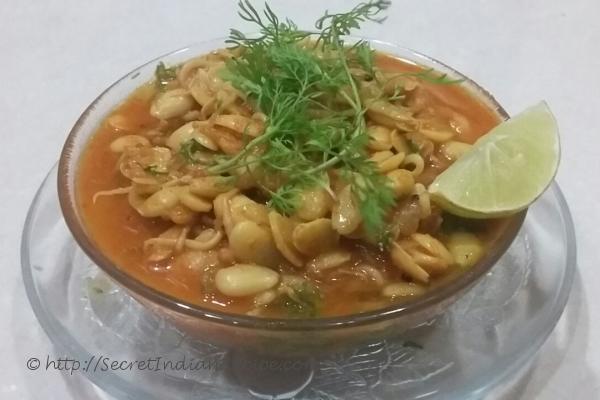 Ingredients:
Sprouted Val beans 200 gm
Onion 100 gm
Dry Coconut 100 gm
Garlic 50 gm
Red chili powder 2 tbsp
Garam masala 2 tbsp
Salt to taste
Coriander 50 gm
Tomato 100 gm
Turmeric 1 tap
Hing 1 tsp
Mustard 1 tbsp
Cumin 1 tbsp
Curry leaves 20 gm
Oil 50 ml
Directions:
Dry roast coconut, onion, garlic and blend it into paste.
Take a pan and add some oil, cumin, mustard and curry leaves and let it temper.
Add chopped onions, Now add on some chili powder, turmeric, hing, and garam masala, tomatoes and sauté till well cooked.
Add sprouted wal and sauté with the made mixture.
Now add the blended paste with some water and simmer it all together. Add salt to taste and coriander for garnish