Walnut Mysorepak
In general, walnuts are very good for brain development for kids, but unfortunately they don't taste like other dry fruits. So I try to give it to my kid this way or prepare walnut laddu. Walnuts are rich in heart-healthy fats and high in antioxidants.
Additionally, regular consumption of walnuts may improve brain health and help prevent heart disease and cancer.#DiwaliRecipe.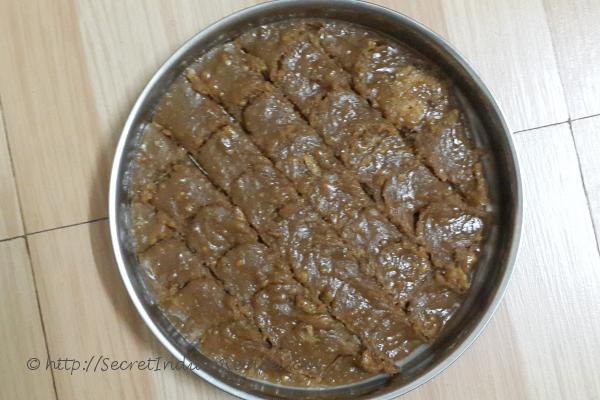 Ingredients:
Walnut crushed - 1 cup
Besant Gram Flour - 2 cups
Sugar- 2 cups
Elaichi Cardamom)powder 1 teaspoon
Ghee 5 tablespoons
Directions:
In a kadai add little ghee and on medium heat roast the gram flour until it turns to golden brown, Add the crushed walnuts and continue to roast until you get a roasted aroma.
After Transfer to a bowl and allow it to cool.
Now add sugar in the kadai with 1 cup water and bring to a boil. Keep Stirring the sugar in water until it dissolves and Turn the heat to low and simmer until you get a one string consistency until you feel sticky between your fingers.
Once the consistency is attained, add the roasted gram flour and walnut mixture. Add ghee little by little every 5 mins of stirring and stir continuously until the mixture looks smooth,and stops sticking much to the pan, if it doesnt stick over the kadai,we are done and we can transfer the mixture to a greasy plate and allow it to cool for a while.
After it cools completes, Cut the Mysore Pak into desired shapes.