Watalappan
Watalappan was the dessert of my childhood. Growing up in a not-so Sri Lankan community, friends and family made sure this dessert was present at every gathering. More often than not, my mother, or Ammi as I call her, was the one to make it. To this day, I get excited when I see that hunk of jaggery come out and I know I have a chance to steal slices of that sweet sugar. Sri Lanka, being an island nation, is plentiful in Caryota urens, the followering plant from which jaggery originates. Watalappan uses the beloved sweetness of jaggery, while enhancing it with common South Asian flavors such as coconut and cardamom. Jaggery can be commonly found in Indian stores across the country.
In this image obtained from Ankur P through Wikipedia, you can see the richness of the jaggery in the color and syrup of this watalappan. You can taste the sweetness of the dessert by simply making this wonderful dish!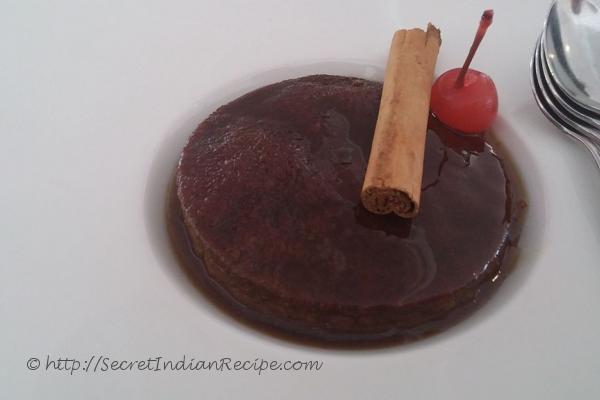 Ingredients:
10 eggs
400 g jaggery
1 teaspoon cardamom powder
1 teaspoon nutmeg powder
I can of thick coconut milk (13.5 ounces)
1/2 cup chopped or halved cashews (optional)
Directions:
Preparation
1. Preheat the oven to 400°F.
2. Spread a thin layer of butter on the inside of the 9x13" baking pan to grease the sides.
3. Grate the jaggery very finely and set aside. Grated Jaggery should look like small flakes. If Jaggery is difficult to break, simply heat slightly until softened.
4. In a large, separate bowl, beat the eggs.
5. Add grated jaggery, nutmeg, cardamom powder, and thick coconut milk to egg mixture.
6. Mix well using an electric hand mixer.
7. Pour the mixture into the 9x13" baking dish.
8. Cover baking dish with aluminum foil.
Baking
9. Fill an aluminum pan with water to be about 3 inches high.
10. Place the baking dish in the aluminum pan. Caution: The water should not exceed the height of the baking dish.
11. Place the aluminum pan (with baking dish inside) on a middle rack of the preheated oven.
12. Bake for about 35-45 minutes, or until top is a deep brown color.
13. Remove from oven when set.
14. Optional: Sprinkle cashews on top of the watalappan, as desired.
Footnotes:
CAUTION: This recipe contains eggs. However, this watalappan recipe is dairy-free, gluten-free, and can be nut-free if desired. Note: If not consumed on the same day, you may store the watalappan in the refrigerator for up to a week. If nut-free version is desired, simply exclude sprinkling the cashews on top of the watalappan. If jaggery is not easily found, brown sugar has been a proposed substitute. I have never used brown sugar in this recipe myself, but it has been said that one pound of dark brown sugar may be used as a substitute. However, this will take out much of the strong flavors that comes with jaggery. Enjoy!