Watermelon Curry
This is a curry that can be a perfect example to the fact that spices do not mean heat but flavour. The cumin, carom seeds, nigella seeds and dried chillies release all its flavour into the oil and cuts into the sweetness of the melon pieces. The soft rind of the watermelon adds just the right amount of bite and texture to an otherwise soft dish.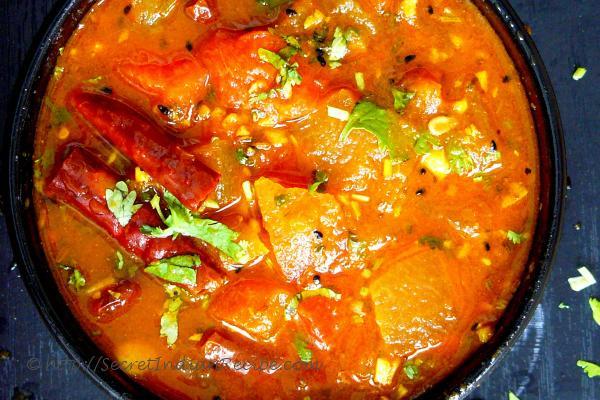 Ingredients:
1 kg seedless watermelon with rind
2 tbsp vegetable oil
½ tsp ajwain/carom seeds
½ tsp cumin seeds
½ tsp nigella seeds (black onion seeds)
3 dried red chillies, broken into small pieces
4 cloves garlic, finely chopped
salt, to season
¼ tsp turmeric powder
2 tsp fresh coriander leaves, finely chopped
Directions:
Cut the outer dark green layer of the watermelon rind keeping the inner whitish-green rind intact. Remove the red flesh of the watermelon from the whitish rind; dice both separately and keep aside.
Heat oil in a pan and add the whole spices; ajwain, cumin, nigella and dry red chillies. When fragrant, add the garlic and sauté on medium heat for about 30 seconds.
Add the watermelon rind pieces and turmeric powder, mix well and season with salt. Cover and look for about 6-7 minutes till the rind has browned and softened. Do not add any water.
In the meantime, blitz half the watermelon flesh pieces and keep aside.
After 7 minutes, add the blitzed watermelon pulp and ½ cup water; mix to combine and cook covered till the rind has become tender.
Then add the remaining flesh pieces and cook on high for 3-4 minutes.
Garnish with chopped coriander leaves and serve warm.