Weetbix Halwa
#DiwaliRecipe or #DiwaliRegionalRecipe
Try this quick, healthy and simple "WeetBix Halwa" in Microwave. WeetBix Cereal is roasted in minimum ghee and cooked along with almonds, saffron & palm sugar. This halwa will be ready within 10 minutes and it is absolutely guilt free.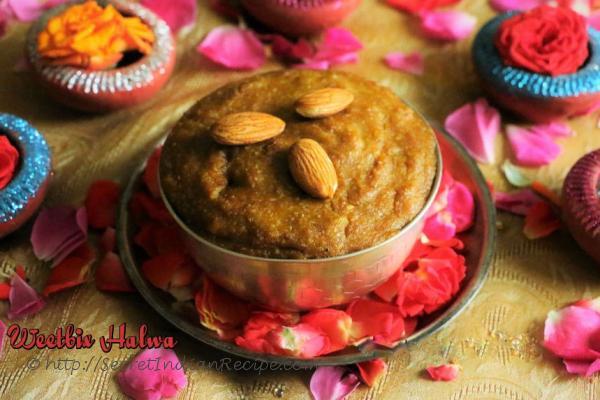 Ingredients:
Weet Bix Cereal – 4pieces (15 grams each)
Palm Sugar – 1/2 cup
Almonds/Cashew/Pista – 1/3 cup
Cardamom Powder – ¼ tsp
Ghee – 4 tsp
Water – 1.5 cups
Saffron - Pinch
Directions:
If you are using almonds, soak for 2 hours else this step can be ignored. Remove the skin from almonds.
Blend the nuts with saffron and less than ½ a cup of water. Blend to a nice paste.
Take a microwave safe bowl and brush it with ghee.
Crush the weetbix separately with hands.
Add a teaspoon on ghee on the weet bix and mix well.
Microwave for 30 seconds. Take out and mix well.
Microwave for another 30 seconds. By this time you would get a nice aroma. If you are not getting then take out , mix well and keep 30 seconds again. Do not keep beyond 1 ½ minutes.
Add the nuts-saffron mix, remaining water, palm sugar and cardamom with this weet bix. Mix well. The water gets absorbed fast but do not worry.
Add 1 tsp ghee on top of this and mix well.
Microwave for a total of 4 minutes. Take out every 2 minutes and mix well. Adjust the sugar taste, (if you want to do so) during these intervals.
After 4 minutes take out and add a teaspoon of ghee. The halwa would become thick by itself in 5 minutes time for the heat it has.
Footnotes:
 Ghee measurements given are the minimum. Do not reduce it. However you may wish to increase if you want to do so.
 WeetBix comes with various flavor. Choose the plain one which has nothing but just wheat