Wheat & Oats Namakpaare
The traditional tea time snack with a healthy twist - Atta, Oats & Herbs - to give you enhanced flavors and health advantages. Time to stack up your snack dabbas with a new version of namakpaare.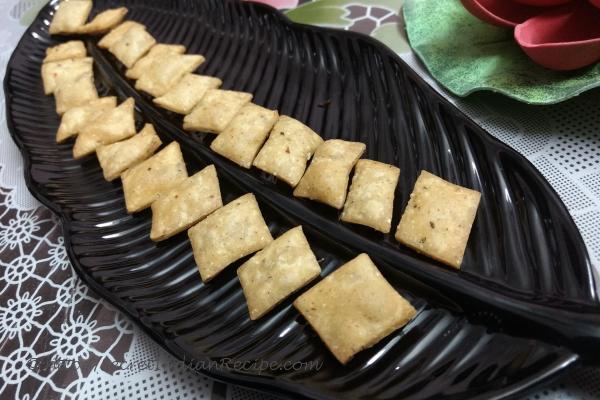 Ingredients:
Maida - 1 cup
Atta - 1 Cup
Oats - 1/8 Cup
Sooji - 1/8 Cup
Ajwain - 1 Tsp
Red Chilli Powder - ½ Tsp
Salt - 1½ Tsp
Pudina Powder - ½ Tsp
Kasuri Methi - 1½ Tbsp
Heeng - 1/8 Tsp
Ghee - ¼ Cup
Warm Water - 155-160 ml
Dry Ginger(Saunth) Powder - ¼ Tsp
Directions:
Take Maida in a bowl. Add Wheat Flour (Atta). Add Sooji (Semolina). Mix everything well.
Add all the spices & salt. Add Kasuri Methi. Mix everything well.
Add oats & ghee to the mixture. Mix well using hands so that ghee is properly distributed.
Add warm water. Knead a dough from the mixture. Cover the bowl & let it rest for 15-20 minutes.
Divide the dough in 5-6 balls, and take a ball of dough. Roll the dough in a big chapati.
Slice the chapati vertically with a knife. Then slice it horizontally to make diamond shaped pieces. Remove the pieces gently from the rolling board using a knife and collect them together.
Heat oil in a pan (TO MEDIUM TEMPERATURE) and transfer the pieces. Cook on a low flame. Keep on flipping to cook from all sides.
Take them out once they turn golden brown. Let them cool down. Keep in an airtight container & enjoy this tea time healthy snack :)