White Sauce In Veggie Pasta
White Sauce is very famous Italian recipe and taste so good with PASTA. Its very addictive and kids will love it. With loaded veggie its very healthy.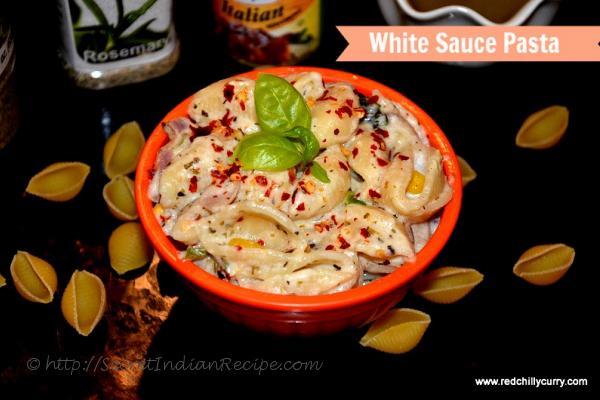 Ingredients:
Shell shaped pasta - 2 cup
Parmesan cheese - 1/4 cup
Dry Oregano powder - 2 tsp
Garlic Powder - 1 tsp
Dry Chilli Flakes - 2 tsp
Basil leaves,mildly chopped - Handful
To make White Sauce:
Butter - 2 tsp
All purpose flour / Maida - 2 tsp
Milk - 1 +1/2 cup
Pepper powder - 1 tsp
Salt to taste
Veggies Needed:
Carrot, finely chopped - 5 tsp
Capsicum / bell peppers - 1/4 cup
Sweet Corn Kernels - 1/4 cup
Directions:
1 . First choose what kind of pasta you want to make for this recipe. There are so many options like penne, spiral, elbow, shell and many more. Here I have used shell shaped pasta. First take a pan and add 5 bowl of water and sprinkle little salt and let it boil. Now add the shell shaped pasta and let it cook for 15-20 mins. Read your instruction given in your pasta box. Cook according to that. Don't overcook pasta. I always use the pasta water for making sauces. You can use it or throw it. Its purely up to you. But for this recipe I didn't use the water.
2. Now when the pastas are cooking. Heat pan and add some olive oil . Now saute all the veggie for 2-3 mins in the oil, don't overcook them. You can add any veggie of your choice like squash, zucchini , broccoli anything of your choice.I added pepper powder, little salt, dry red chilli flakes, Oregano, garlic powder and little parmesan cheese.Let everything cool well. Once done keep it Separate.
3. Again heat pan in another flame and start preparing white sauce. For making white sauce we need a hot pan and add butter to it. Now add plain flour and mix them well . Now keep the flame low and slowly add milk and keep stirring. Care should be taken while making this white sauce. Keep stirring otherwsie it will burn and stick to the bottom.
4. Once the sauce gets thicker. Switch off the flame. Now transfer the cooked pasta into the white sauce, add the cooked veggies too and coat everything together. Pasta is ready. Usually the pasta will be white and mild in taste. Garnish with fresh basil leaves and serve it piping hot.