Whole Mung (yellow Lentil) Dry Dates Ladoo
#DiwaliRecipeContest. The Mung bean or moong or Green Gram is easily available and widely used in all over the word. A healthy and makes a perfect meal, staple food in India and all remote locations. Lots of recipes been prepared using whole moong or mung, mung Dal and flour. We usually store mung at our home and use on regular basis for making curry, bhaji, dosas, shev, ladoos and many more dishes. In this recipe I have used Yellow variety of whole mung mixed with dry dates powder and lots of dry fruits. These ladoos tastes awesome. Only one thing needs to keep in mind while preparing ladoos that is roasting part of the flour. It needs to be done properly otherwise uncooked flour gives raw taste to the final dish.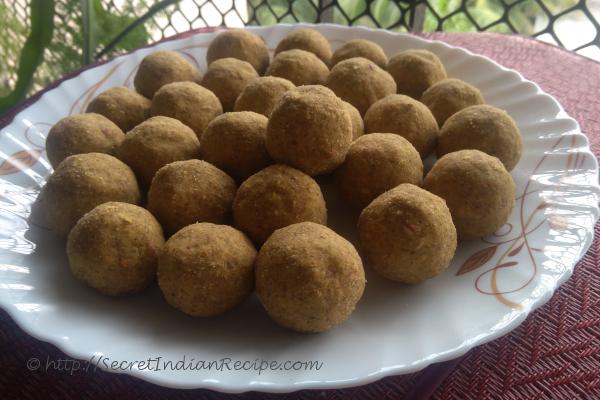 Ingredients:
Whole Mung flour - 500gms (yellow or green)
Dry Dates or kharik - 15-18 deseeded
Nutmeg - 1/4th pc small
Green Cardamom pods - 10-12
Crystal sugar - 1/2 cup
Ghee 1 cup
Roasted Cashew nuts - 2 tbsp
Roasted Almonds - 2 tbsp
Chopped Raisins - 2 tbsp
Charoli - 3 tbsp
Directions:
Dry roast whole mung flour in a heavy bottom utensil on a low flame for 15-18 minutes till get a brownish color and nutty fragrance.
Stir continuously from the beginning. Make sure that flour should be fine or grainy in texture.
Transfer Crystal sugar into blender and blend into fine powder. It should not be like castor sugar.
Blend de-seeded dry dates into coarse powder.
Grind nutmeg and cardamom into fine powder adding Little sugar into it.
Coarsely ground roasted almond and cashew nuts.
Add dry dates powder, blended sugar, nutmeg and cardamom powder, coarsely ground dry fruits and raisins into flour mixture.
Create a well in the center of the flour.
Add 3/4th melted ghee first. Mix well with spatula. Rub mixture with the help of fingertips and palms till it form a crumbly texture. If required add remaining ghee and mix well with flour.
Take small portion of the mixture and shape it into small Ladoo.
Repeat the process with remaining flour. Store ladoos into airtight container.