Yogurt Pannacotta In An Icedrop
Panna cotta is an Italian dessert..here I have made a very healthy diet recipe. Yogurt panna cotta which is yummy in taste and can be prepared even a day before our guest arrives..This is very amazing in taste and it contains a lot of health benefiting nutrients. It is a quick and easy recipe and you can easily prepare restaurant style Yogurt Panna cotta in an Icedrop at your home.
A very healthy protein diet booster for our kids. #recipecontest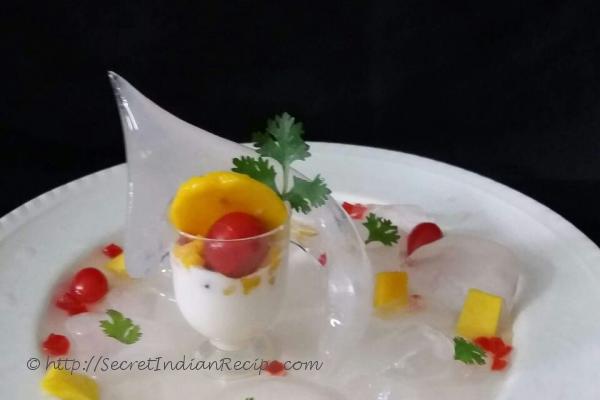 Ingredients:
Yogurt 1/2 cup
Cream 1/2 cup
Milk 1 cup
Powdered sugar 1/2 cup
Gelatin 1tbsp
Mango 1
Vanilla essence 1 tsp
Cherries for garnish
Tuti fruti for garnish
Directions:
Strain curd in an hand kerchief and let water drain out. Let it rest in fridge for about 3 hours.. A thick and creamy yogurt will be formed.
Now for making ice drop..fill in water in a balloon and hang it with a string in freezer.Let it freeze for about 3 hours..don't freeze it fully.. Break the ice in such a way that the tip remains as such and doesn't break.
Blooming of Gelatin.. Take a small bowl and add water to Gelatin..let it rest for 3 minutes.. Then in a pan add water and let it come to boil. Put in Gelatin bowl into it, stir gelatin till all granules dissolve.Take it out and now it is ready to use.
Now in a pan add cream and switch on gas on low flame. Keep stirring continuously Then add in curd, sugar and milk.. stir it..keep the gas on low flame only. Add in gelatin. Stir it and cook for two minutes..Add in vanilla essence. Take it out in a pointed beaker so that it is easy to fill it in small cups Now pour it into small glasses. let it rest in fridge for at least 2 hours till it is set completely.
Now cut mangoes into small pieces.. In a pan add mangoes and sugar.. Let it cook till mango absorbs sugar and becomes little moist..stewed mangoes are ready for garnish Now take out the panna cotta and check whether it's done or not.. Break ice drop ..and garnish it. Cut a circle of mango, cherry and coriander for garnish. Chilled Yogurt panna cotta ready to serve.