Zarda Pulao With Leftover Rice (sweet Rice Dessert)
The first time I had this was in my friend Rehana's house. I was curious since I have never had 'sweet rice' before. I have had ' Kheer' but having sweet rice was new to me. And we were all praising her the first bite was actually incidental. We had just finished our ' Biryani' cooked by Rehana's mother and we were all thanking her for the awesome lunch. She got up and went to the kitchen. Within few mintues she came with a plate of ' Zarda Pulao'. My Friend ' Parul' was with us, who is a vegetarian. I thought Aunty has made some special dry fruit 'Biryani' for her. Before Aunty could say anything, I took a spoonful of 'zarda Pulao' and put it in mouth. I was struck, 'oh! It is sweet'. Aunty started laughing. She said it is ' Zarda Pulao' a special dessert recipe they make at home. I do not have a sweet tooth, I sometimes make it when I have some leftover rice at home. Traditionally it is cooked with Basmati rice or long grained rice, but I prefer small grain rice. The key point, The rice should should be well cooked but not overcooked.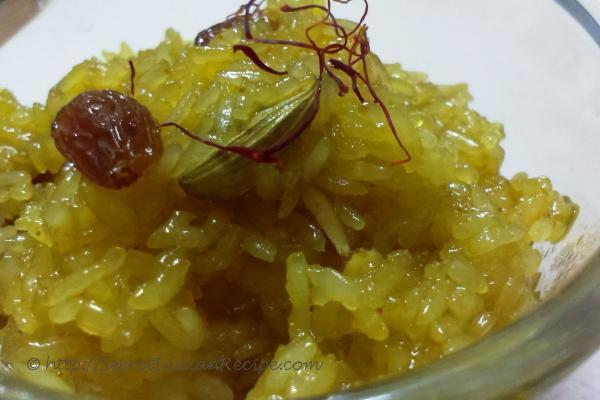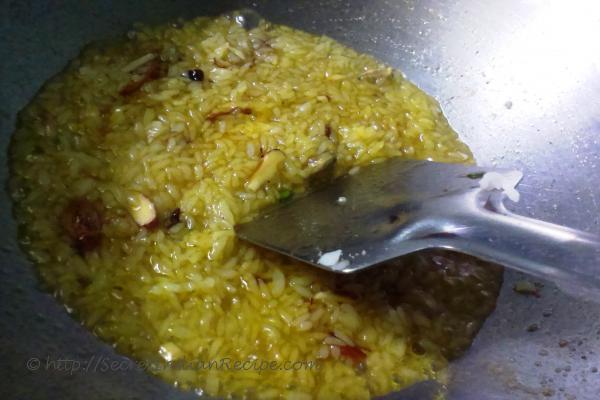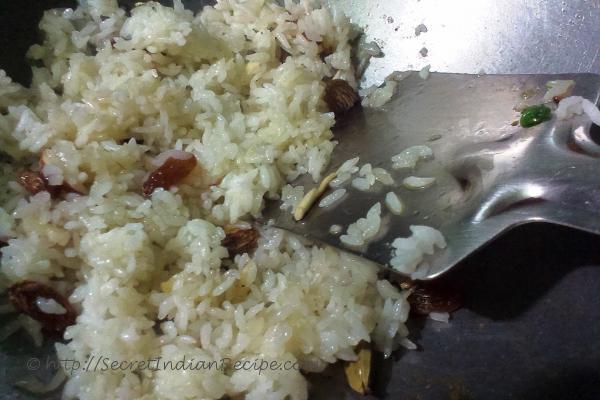 Ingredients:
Rice – 1 cup (Cooked)
Sugar – 1 cup
Ghee – 3 tablespoon
Cloves – 2-3
Cardamom – 2-3
Raisins – 3 tablespoon (Soaked in water)
Almonds – 3 tablespoon (Soaked in water)
Saffron – few strands soaked in milk
Rose essence – few drops
Directions:
Make the sugar syrup by boiling sugar with ¾ cup of water in a pan till it dissolves completely. Switch off the flame and keep aside.
Heat Ghee in a wide pan on low flame. Crush the cardamom and add it in ghee along with whole cloves. Let them release their flavors in ghee for few seconds.
Now add raisins and almonds and wait for 2 seconds for them to brown.
Now add the cooked rice and mix. Keep the flame low. Since the rice is cooked it may stick at the bottom. So give gentle stir twice or thrice.
Now add the sugar syrup and saffron water into the pan and mix. Increase the flame so that the rice is not overcooked. You will see each grain of rice separating as it is being cooked in sugar syrup.
Once all the water evaporates and the rice is well coated with sugar syrup. Switch off the flame.
Add some rose essence if you wish to. Garnish with almond slices and chopped Pistachio and serve hot.