Zucchini Bhaji
We find varieties of Cucumbers in India. Cucumbers are eaten raw or in the form of salads. In India there are varieties in the cucumber family and this vegetable is cooked in southern part of India.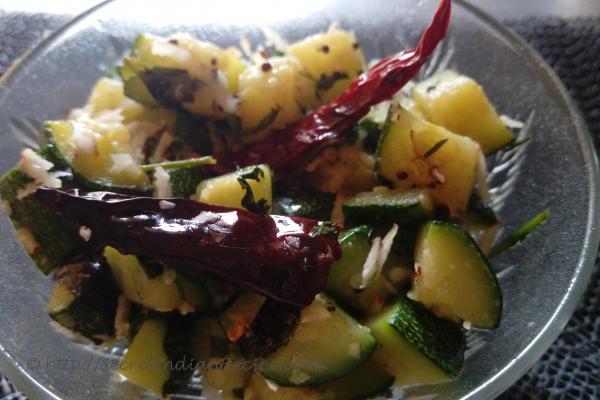 Ingredients:
2 zucchinis cut in 1/2" pieces
3-4 small dry red chillies cut into two
1/2 tea spoon mustard seeds
1.1/2 t.spoon coconut oil /any oil
Pinch of sugar
8-10 curry leaves
Scraped Coconut n corriander for garnish
Salt to taste
Directions:
1) Heat oil in a pan . Add mustard seeds when it splutter add curry leaves and red chillies.
2) Add zucchini and saute for 2 min.
3) add sugar n salt. Mix it well. cover it with lid. Stir every 2-3 min.
4) It will take 8-10 min. to cook.
5) Garnish with coconut n coriander leaves
Footnotes:
No need to add water as its a cucumber family vegetable, it releases water when you add salt to it. It may take less time to cook if it's tender