Shahi Kashmiri Dum Aloo
Kashmiri dum aloo is one of my favorite aloo recipes. When I am invited to a Kashmiri house for a meal, I always looked forward to the kashmiri dum aloo.. The subtle taste of masalas, the tang of curd married with perfectly cooked baby potatoes.. A recipe to die for!
So here's my version of the Kashmiri Dum Aloo... close to authentic with slight variation...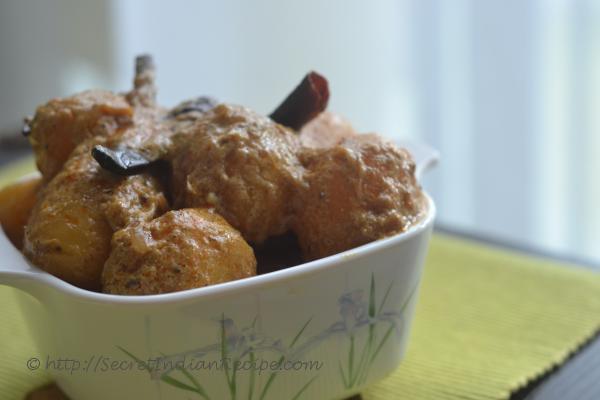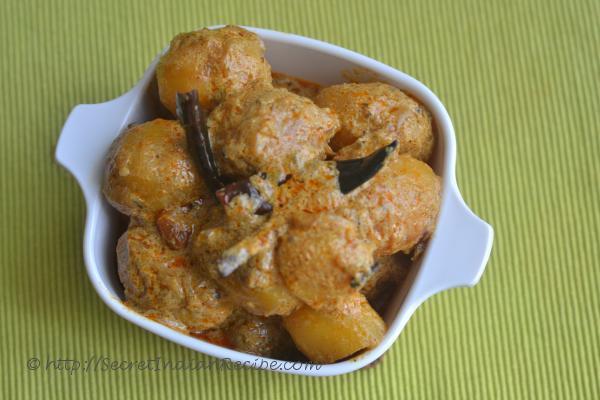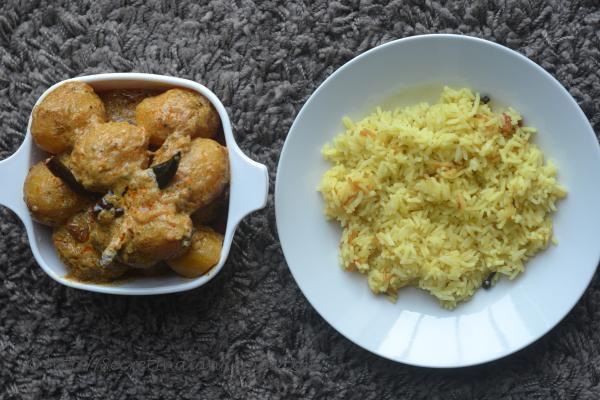 Ingredients:
Oil 1 Tbsp + for deep frying
Baby Potatoes : 200 gms
Greek Yoghurt: 100 gms
Fennel Seeds Powder: 1tsp (saunf)
Turmeric powder : 1tsp
Red Chili powder : 1tsp
Dry Ginger powder 1/2 tsp
Hing 1/2 tsp
Cardamom: 3-4 nos
Cloves- 6-7 nos
Salt to taste
Dry red chilies : 2 nos
Garam Masala powder : 1 tsp
Warm Water 2 cups
Directions:
Par boil the potatoes (preferably in an open pot) this keeps them from becoming mushy
Cook about 40% and remove potatoes from water. When cool, peel them and poke them using a fork or toothpick around the surface... This helps the potatoes to absorb all flavors of the masalas
Heat oil for deep frying, deep fry the potatoes till golden brown from outside and set them aside on paper towel
In a kadhai, heat oil. Add cardmoms, cloves, red chili and give it a good mix
Add the dry masalas, Hing, saunf, turmeric, red chili powder and dry ginger powder
Now add the yogurt quickly and give it a good mix. Add salt to taste
Add 2 cup water, cover and let the gravy simmer for 5 mins
After 5 mins add the fried potatoes, cover and cook on medium heat for 40 mins or till the potatoes are fully cooked. You will notice that the potatoes soak up much of the curry making it slightly thick.
Check for salt and adjust seasoning if needed.
Add garam masala and cook for 2 mins more
Garnish with green coriander and serve with rotis or rice
Footnotes:
Use medium sized potatoes not tiny ones. If you use really small potatoes they will become mushy.