Valentine's Special Shrikhand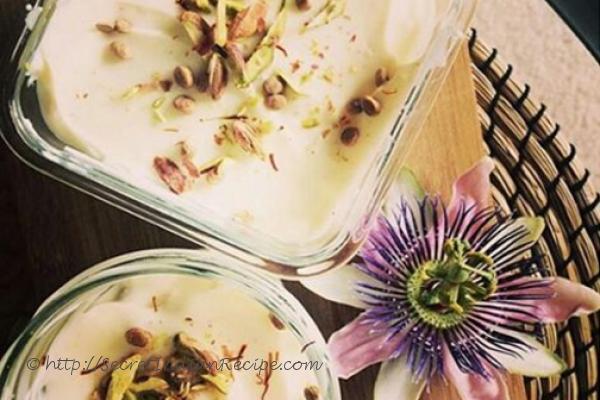 Ingredients:
6 cups yogurt
1 tsp saffron threads
1 tbsp warm milk
1⁄2 cup superfine sugar
1⁄2 tsp green cardamom seeds Crushed
10 pistachios chopped
Directions:
Take 3 layers of cheesecloth (muslin cloth) into a 12" x 24" square.
Put yogurt in middle of the cloth, bring the ends together and tie
Tie cloth with yogurt to the handle of a wooden spoon and set wooden spoon over a bowl. Set such, that the base of the cloth filled with yogurt hangs and does not touch the base of the bowl.
Keep the yogurt in the fridge. Chill yogurt and let water from the cloth drain overnight. This makes the yogurt in to a thicker consistency. Combine saffron and hot milk and let it steep for 30 minutes. Let it cool
Put drained yogurt into a bowl; stir in saffron mixture and sugar and mix well till it all comes together to form Shrikhand.
Divide shrikhand between 6 small bowls and garnish with cardamom and pistachios.