Suji Nariyal Ladoo (coconut Semolina Sweet)
A versatile indian sweer for every festival.. Perfect for Diwali, Holi, Dusherra and all Poojas. Her's my #INDIANFESTIVE recipe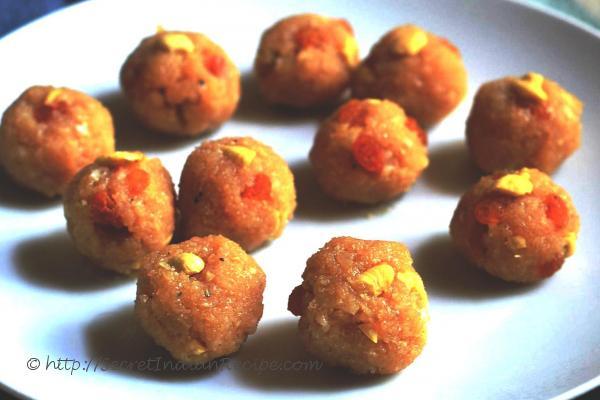 Ingredients:
Suji / Rawa : 2 cups
Fresh coconut : 1 cup
Sugar : 1/2 cup
Cardamom: 1/4 tsp
Nuts : any nuts roughly chopped (I used, chashew & raisins)
Ghee: 2 tbsp
Directions:
In a non stick pan heat the ghee, add the nuts roast them for a few seconds. Remove and set aside.
In the same ghee add suji and roast in ghee for 2 mins of till it turns slight brownish and starts releasing a nutty aroma
Now add the nariyal/ fresh grated coconut and mix well
Add sugar. Mix well and let the mixture cook for 3-5 mins on low heat
As the mixture begins to thicken add cardamom powder (optional) and nuts
Turn off heat remove on a flat surface and spread with the help of a spoon
This will allow it to cool fater
Once a little its at a tempreture at which you can comfortably touch, start making small round ladoos (balls)
Serve cold or at room tempreture
Footnotes:
If the mixture is not holding shape... quickly make the balls and refrigerate for 20 mins to set....