Panjiri (pooja Recipe)
In many North Indian Families, Panjiri is made during pooja or any festivities as prasad. This recipe is similar to how my mum makes it. My entry for #FestiveRecipe contest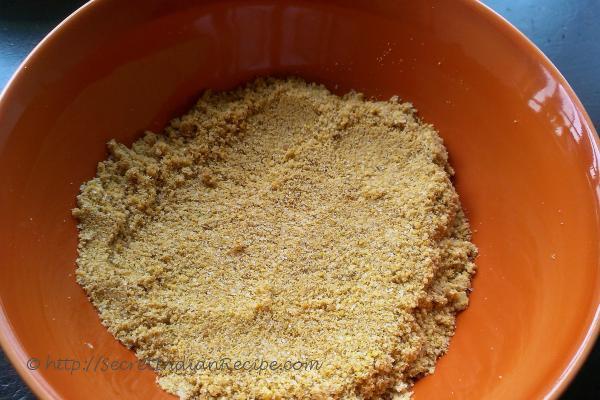 Ingredients:
Atta (Weat flour) - 1 Cup
Powdered Sugar 1/2 cup
Pure Ghee - 4-5 tablespoon
Directions:
Slightly Heat a heavy non stick pan or thick bottom kadhai.
Add the atta (whole wheat flour) to the pan and on low roast the atta for about 10 mins
Make sure the heat is on low, as the atta can burn quickly. Do not leave the atta unattended, keep stirring occasionally.
The atta will turn slighlty browner and relases a nutty aroma
Once it reaches this stage add the ghee (add 4 tbsp first)
Mix well and keep stirring for further 3-4 mins
Now remove from heat and add powdered sugar
mix well.. You may use your hands to mix well. The texture should be like a crumbly dough (without large flour chunks)
The panjiri is ready. Allow to cool naturally.
Footnotes:
You may also add roasted almonds, cahews or raisins towards the end, just before adding the sugar