Baingan Tamatar Sabji (brinjal Tomato Curry)
This preparation goes best as a side dish with rice or paratha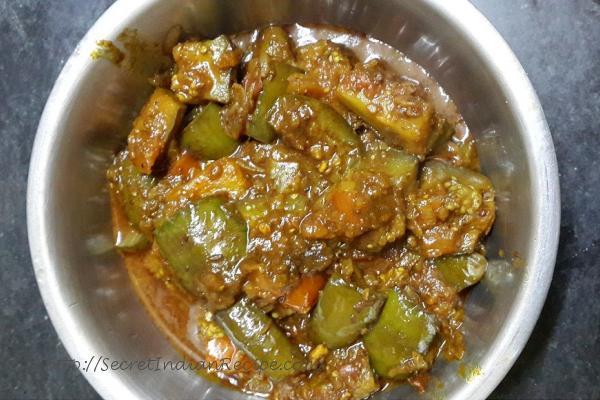 Ingredients:
Baingan (Brinjal) - 2nos. medium
Tamatar (Tomato) - 3 nos. - medium
Onion - 1 nos - medium
Red Chilli Powder - 1/2 tablespoon
Jeera (cumin) powder - 1 tablespoon
Turmeric - 1/2 tablespoon
Mustard Oil -1 tablespoon
Green chillies - 2 nos - chopped
Salt - 1/2 tablespoon
Water - 1 cup
Directions:
Cut the brinjals and tomatoes in cubes. Chop the onions and green chillies
In a wok, heat the mustard oil till it smokes. Now reduce the flames. Add the onions and saute
Add salt, turmeric, chilli powder, green chillies and cumin powder and let fry for few minutes. Add 1/4 cup water to avoid burning of the the masala.
Now add the tomatoes and mix properly. Let it cook for 5 minutes or till the tomatoes becomes soft and mashy. Mix in between.
Now add the brinjals. Add the rest water, mix properly,cover and let cook for 15 minutes. Stir in between so that all the brinjals become soft and cooked properly.
Footnotes:
Some birnjals cause irritation or allergy to many. Black/ violet brinjals are safer than the green brinjals.
Can add peas after the tomatoes are cooked for a varied taste
Garnish with chopped coriander leaves