Kashmiri Dum Aloo
After a wonderful response to my Kabargah recipe I thought of sharing the quintessential Kashmiri recipe- The Kashmiri Dum Aloo. This recipe is as authentic as it gets!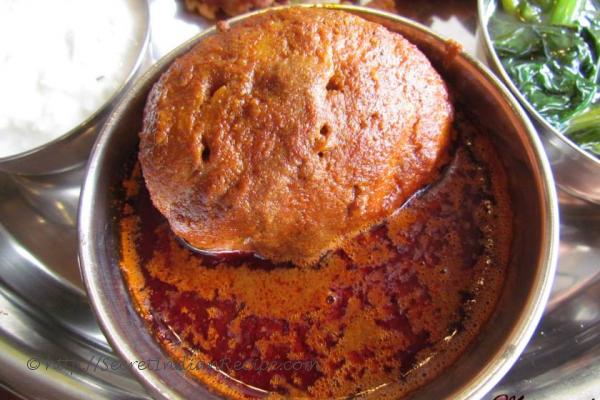 Ingredients:
1 kg medium size round or oval potatoes (about 50g each piece)
400 ml mustard oil
2 table spoons kashmiri mirch (chilly powder)
2 table spoons saunf powder (fennel powder)
1 tea spoon saunth powder (ginger powder)
1 tea spoon safed zeera (white cumin seeds)
1/2 tea spoon kala zeera (black cumin)
2 one inch pieces dalcheeni (cinnamon)
2-3 elaichi (cardamom)
2 crushed moti elaichi (black cardamom)
6 half crushed laung (cloves)
1/2 tea spoon garam masala
2 tej pate (bay leaves)
2 ladles whipped curd
Directions:
Wash potatoes and put them in a big vessel / patila / a big, deep pan of 3L capacity.
Boil them till the potatoes can be peeled off easily without using knife.
Pierce the peeled potatoes, preferably with a knitting needle / tooth pick.
Make sure that they don't break. Put oil in a deep frying pan and keep it on full flame till the smoke starts appearing.
Now put 5-6 potatoes at a time, the potatoes must be immersed in the oil completely, fry them on full flame till they start turning brown.
Now continue to fry on low flame till the potatoes start floating on the surface of the oil.
Take out the potatoes from the pan and fry rest of the potatoes in same manner.
Cool the potatoes for a while and then pierce them carefully again with a knitting needle. (Do not let the potatoes to break while piercing).
Take out the extra oil from the pan, put pan on low flame and put zeera, laung, hing and kashmiri mirch along with whipped curd and stir it continuously till dark red colour appears.
Put the potatoes in the red puree and toss it in such a way that it mixes with puree evenly.
Now add 2 big glasses of water, saunf powder, saunth powder, salt, tej patte, cardamom, black cardamom, safed zeera, dalcheeni and boil.
Put it on a low flame till about half a glass of curry is left. Add garam masala, black zeera and boil for another 2 minutes.