Grilled Chicken Masala (indian Grilled Chicken)
Chicken starters are fit for any occasion. Especially for a bbq party. Try this yummy full masala marinade. It can be grilled or barbecued.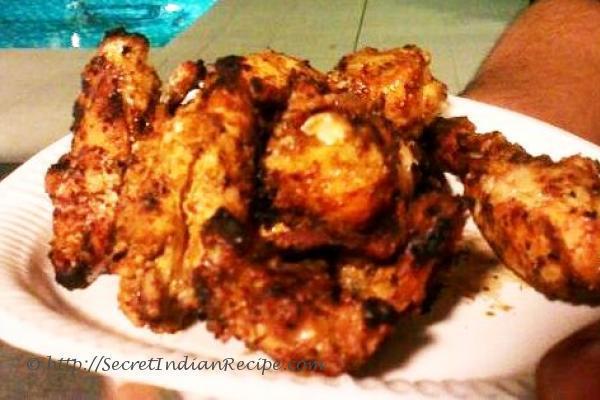 Ingredients:
Chicken Thighs/Drums (about 4 pieces)
1 Tbsp Garam masala
1 Tbsp freshly made Ginger Garlic paste
2 Tbsp Kasturi Methi (dried Fenugreek Leaves)
1 Cup plain Curd/Yogurt (Make sure its not sour)
1/2 Tsp Salt
1 Tbsp Coriander leaves
2 Tbsp Oil
2 tsp red chili powder
1 tsp Turmeric powder
1/2 Tsp brown sugar
Directions:
Mix all Ingredients accept for chicken in a bowl. Mix till it form a smooth thick marinade
Remove 1/2 a cup of the marinate aside
Now coat the chicken with the remaining marinade, place it in a zip lock pouch or any plastic bag or bowl with all of the marinade.
Set aside to marinate overnight or at least for 5 hours
When ready to cook, Place the chicken from the marinade on to hot grill or Bbq. Cook the chicken for at least 30 mins turning once or twice. Keep basting with the reserved marinade and a little butter when chicken starts to dry
Serve hot with lemon wedge and onion rings
Other Indian Recipes that you may Like !