Lucknowi Chicken Biryani Recipe (rich Chicken Biryani From Lucknow)
This chicken biryani recipe is straight from the streets of Lucknow. I have a friend from there who is an amazing cook ( and a professional chef) and he swears by this recipe... So here goes.. the Famous Chicken Lucknowi Biryani.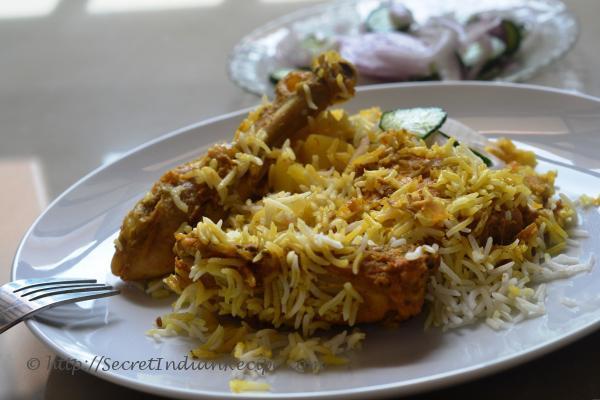 Ingredients:
500 gms Chicken (Skinless)
FOR MARINATION::
1 Tbsp Salt
1 Tbsp red Chili Powder
1/2 Tbsp Turmeric
1 Tbsp Coriander Powder
1 Tbsp Cumin Powder
2 Finely chopped Green Chilies
4 Tbsp Fried brown Onions (Sliced and deep fried till golden brown)
2 Tsp Freshly pound Garlic (can also use paste)
2 Tsp Freshly pound Ginger (can also use paste)
2 Cups of Curd
2 to 3 nos Mace crushed by hand
FOR COOKING THE CHICKEN::
2 Bayleaves
7 Tbsp of Oil or Ghee
1 Stick Cinamon
2 Cardamoms
4 Cloves
2-3 Black Cordamoms
1 Tbsp Coriander leaves
1 Tbsp Mint Leaves
FOR COOKING THE RICE::
1kg Biryani Rice
6 Tbsp of Salt
2 Tsp Shahi Jeera
2 Star Anis
FOR GARNISHING::
3 Tbsp Milk mixed with saffron
2 Tbsp coriander leaves
2 Tbsp mint leaves
5 tbsp of fried onion
Directions:
To marinate the chicken, take all ingredients of marination (mentioned above) in a bowl add chicken and mix well. Marinate the Biryani for minimum 2 hours
Soak Basmati rice before hand, at least for 1 hour. Boil sufficient water for the rice. Make sure you use good quality Basmati rice. Add Shahi Jeera, salt and star anis to the water followed by the rice.
Make sure you don't over cook the rice, we need to cook it only till its 50% done. Once half done strain and set aside uncovered for the heat to escape
For Cooking the chicken, heat oil or ghee in a kadhai or wok. Add all the whole garam masalas mentioned in the list "FOR COOKING THE CHICKEN". Now add in the marinated chicken, mix well partially cover and let is cook for about 15-20 minutes on medium heat
After 15 minutes, you will see the oil starts to separate and float on top. Turn of the heat add coriander and mint leaves and set aside covered for 10 minutes
Time for Layering: Take a deep vessel, (Preferably with a tight lid) in which you can dum (slow steam heat) the Biryani. Apply some ghee at the bottom of the vessel. Add in the chicken first, spread evenly. Now add the half cooked rice and spread evenly.
Garnish the layered biryani with ingredients mentioned in "FOR GARNISHING".
Cover with a clean towel and place a heavy lid on top. If you don't have a heavy lid place some heavy object on top of the lid.
On very low heat let the biryani cook in its own steam for about 20 mins
When done, uncover and serve hot in layers.
Footnotes:
Use Good quality Basmati rice, the flavor of any biryani partially comes from the rice used
No tomatoes are used in lucknowi Biryani, that is why curd is used a lot
You may add 1 tbsp of lime juice in the chicken, its optional only if you like tangy flavors :)
Lucknowis do not use ground masalas, the whole garam masalas used is the secret to the flavors in this dish.. (My personal feeling)
Other Indian Recipes that you may Like !