Chakli (a Medium Spicy Spiral Fried Snack)
Every household in India have their own way of preparing chaklis, in a Maharstrian household Bhajani is used, in South India its called a Murukku and made of rice flour, and many others use a mix of various flours for this recipe.I am making this recipe the way my Aji made it using wheat flour and rice flour. Its easy and quick.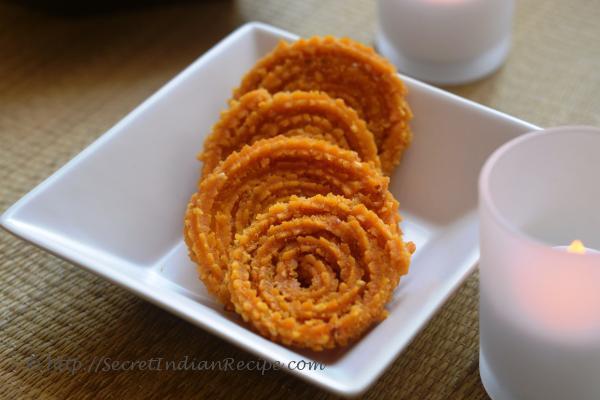 Ingredients:
2 Cups Wheat flour (atta)
4 Tbsp Rice Flour
4 Tsp coriander powder
1 Tsp Til (Sesame seeds)
1 Tsp Ajwain (Carom seeds)
2 Tsp chili powder
1 Tsp salt
1 Cup water
Directions:
Keep a steamer ready, you may use an idli steamer, pressure cooker or rice cooker. Mix the Wheat flour and rice flour in a vessel which can be steamed, cover with a cloth and place in steamer for 25 Mins
Once done remove from steamer, you will see that the flours have stiffened a bit. With a help of a spoon or fork break the flour lumps
Using a sieve, sift the flours so that all lumps are seperated. You may keep breaking the lumps in the sieve with help of the back of a spoon.
Once the flour is sifted, add all other dry ingredients and knead into a dough using water (It should be a little more stiffer than usual chapatti dough). Cover the dough and Set aside for 15 mins.
Take oil in a kadhai or deep pan for deep frying. With help of a chakli maker swirl out chaklis on a bake paper or a small plastic sheet.
Very carefully deep fry these chaklis for 1 min on each side on a low flame.
Drain on paper, and let is cool completely before serving.
Serve with Tea or have it as a snack at any time of the day