Soyabean Baigan Sabzi (soyabean With Brinjal Fry)
My mum's experimental cooking sessions are the best. This is one of my favourite dishes and it tastes best when eaten immediately with hot fulkas/ Rotis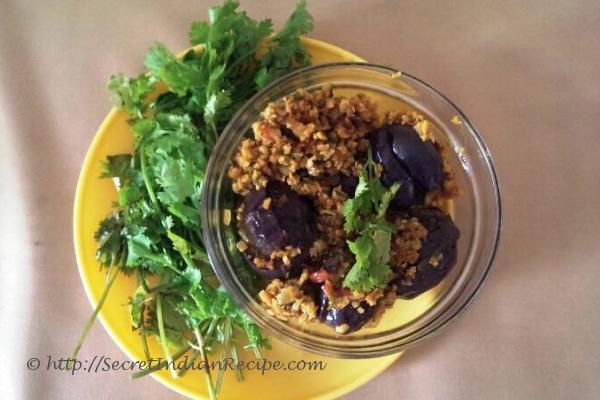 Ingredients:
6 to 7 small purple Baigan ( Brinjals)
200 Grams Soyabean granuels
2 Large Onions finely chopped
1 large tomato finely chopped
2 Tsp Ginger garlic paste
1/2 Tsp Turmeric powder
1 Tsp red chili powder
1 Tsp Dana Jeera powder
1/2 Tsp Garam Masala
Water
Oil for cooking
Salt to taste
Coriander for garnishing
Directions:
Boil soya bean granules in plenty water with 1Tbsp salt. Boil for about 3 to 4 minutes or till the soya bean is cooked well. When done, bring the water to normal temperature and squeeze the water out of soya beans by hand and keep aside.
Make two slits n the head of the baigans. In a deep pan or kadhai take about 2 Tbsp oil and sauté the baigans for a few minutes. You will see the baigans changing colour an becoming softer. When they are about 80% cooked remove from heat and set aside.
In the same oil add onions and sauté till golden brown, add tomatoes, ginger garlic paste, chili powder, turmeric, salt and dhana jeera powder. Mix all ingredients well and cook on medium heat covered for 10-15 mins. Occasionally adding few splashes of water to avoid the masala to dry
The masala should be nice and brown, and when it starts leaving oil its done. Add a little water more (about 100ml) stir for a few more minutes and then go in the baigans and garam masala, let them simmer in the sauce for a few mins till completely cooked . Check fr salt and adjust seasoning if required.
Lastly add the cooked soya bean and give it a quick stir. Remove from heat garnish with coriander and serve hot with rotis.
Footnotes:
When soya bean is added in at the last stage it starts soaking up all the liquid from the sauce, so if you are making this dish in advance make sure you add the soya beans while reheating the dish just before serving
Frying the baigans in advance avoids them to become mushy during the cooking process