Sindhi Style Soyabean Sabzi / Soyabean Curry
I am a fan of anything Soy. From Soy milk to soybean curd, to good old indian soyabean chunks! This recipe was shared by my sister Swati (Who is an awesome cook.. btw). She learnt this recipe from her mother-in-law and it is now my absolute favourite! So here is Sindhi style Soyabean curry.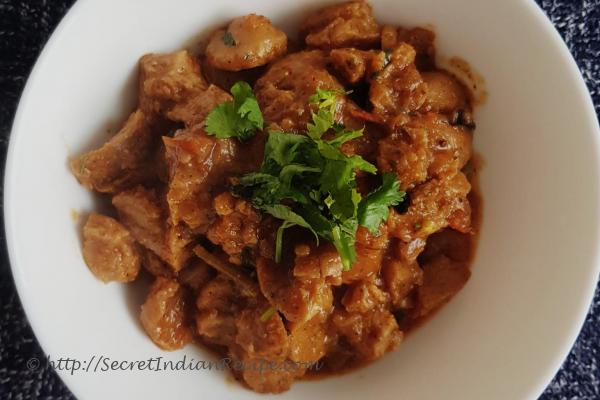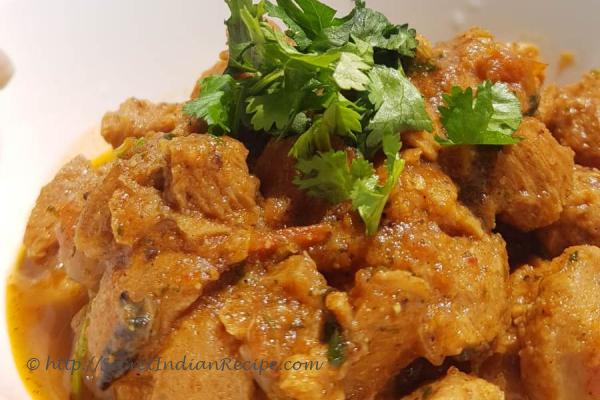 Ingredients:
Soyabean chunks : 250gms
Vegetable Oil for cooking (About 4 tbsp)
Water for boiling the chunks
Salt to taste
Coriander power (freshly ground) 2 Heaped Tsp
Cumin Powder (freshly ground) 1 Tsp
Homemade garam masala 1Tsp
Onions 1
Tomato 1
Ginger garlic paster 1 Tsp
Sugar 1/4 Tsp
Ghee 1/2 Tsp
Coriander for garnishing
Dry Kasoori Methi (Dry roast before adding) 1/2 Tsp
Dry Whole Masalas: 4Clove, 1Cinnamon, 2Black Caradamom, 1/2 tsp Jeera
Turmeric 1/2 Tsp
Chili powder 1/4 tsp
Tomato ketchup (Optional)
Directions:
In a pot, heat water, once it starts boiling switch off the flame, add the chunks and let them soak for a few mins
Meanwhile, slice onions, chop tomatoes
In a cooker heat oil, add the whole masalas and saute. Add onions, little salt and saute for 1 min, Add Ginger garlic paste and saute. Keep the flame on low.
Take the chunks out of the water and squeeze all the water from the soya chunks... Add hald of the chunks into the cooker and saute along with the masalas
The remaining half, chop the soyabean chunks into small pieces or use a hand chopper to grind them. (Dont powder completely, keep slightly chunkier). Now add these to the cooker. Mix well, and continue to saute the soyabean with the onions and whole masalas
Let the onions char a little and when they start sticking to the bottom of the cooker, scrap the charred bits. This adds flavour to the curry. Now add finely chopped tomatoes and mix well.
At this stage, add all your dry masalas (Coriancer, cumin, turmeric, chili powder). Mix well and continue to cook on a medium flame for good 15 mins. Keep stirring so it doesn't burn.
By now the tomatoes and onions would have formed a thick masala coating the chunks
Now add 1 glass of water, 2 Tsp tomato ketchup (optional) salt and sugar. If you dont add ketchup, add at least 1/2 tsp of sugar
Close the lid and pressure cook until 3 to 5 whistles
When done, open the lid, add 1 tbsp ghee, garam masala and kasoori methi.
Mix well. Garnish with coriander leaves & Serve hot with phukas or rotis
Footnotes:
Adding tomato ketchup makes the curry saucy!