Pav Bhaji (kid's Special Pav Bhaji)
My kid's love Pav bhaji. But most of the time when we eat out they find the bhaji a bit too spicy. So every single time they add tons of butter to the bhaji to mild down the spiciness. I don't like that, as butter is high in cholestrol. So I have been making pav bhaji almost every weekend for the kids. This is a quick recipe which is less oily and not very spicy, just the right dish for my teens!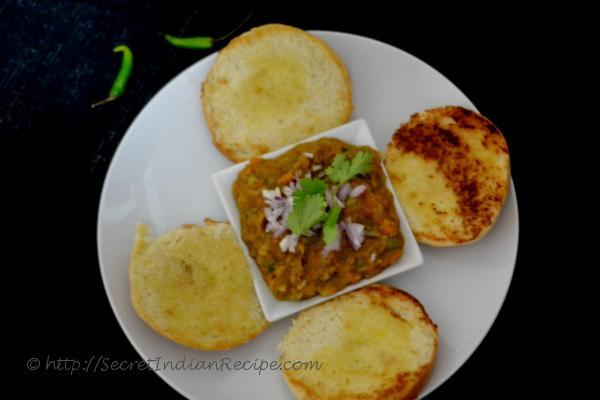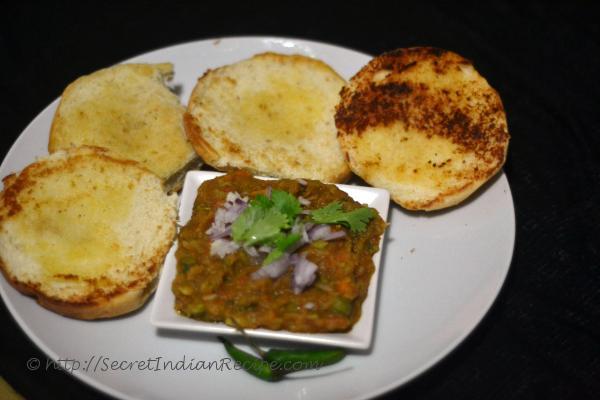 Ingredients:
Potatoes 4 (Cubed)
Chopped Cauliflower 1 Cup (about 200gms) chopped
Peas 1/2 cup
Carrots 2 chopped
Chopped Beans 1 Cup (About 200 gms)
Tomatoes 2 diced
Coriander leaves - finely chopped 6 Tbsp
Salt to taste
Vegetable Oil 4 tbsp
Onions 3 finely chopped
Sugar 1 tbsp
Pav Bhaji Masala 2 heaped Tbsp (I use Kitchen King)
Butter 2 tablespoon
Water as required (About 1/4 cup)
Ginger Garlic Paste 1/2 Tbsp
For Garnishing- 1/2tsp Garam Masala, 1/2 tsp pavbhaji masala and 1 tsp chaat masala
Directions:
Heat oil in a pressure cooker. Add onions, salt and saute till they turn pink
Add ginger garlic paste & Saute. Add tomatoes and mix well
Now add the pav bhaji masala and all the veggies. Mix well add 1/4th cup water adjust salt and mix. Cover and pressure cook until 3 to 4 whistles and turn off heat
When the pressure releases. Open cooker and mash up all veggies. After mashing you can see the bhaji turning nice and thick
If you see there is too much water, cook the bhaji on hig heat without covering.
If it is just the right consistency, add 1/2 tsp garam masala, 1/2 Tsp Pav Bhaji Masala , 1 Tsp chaat masala and butter. Mix well and set aside
For Pav, heat a pan, add little butter and toast the breads/ buns or pav on both sides
Garnish bhaji with coriander and onions (optional) and Serve hot .