Kappa Biryani (tapioca Biryani)
I guess the love for tapioca is an acquired taste because it is quite heavy to digest as a tuber and is quite heavy a meal too. My mom tells me that tapioca was the common man's meal before he engaged in heavy labour. It is often had in mashed as well as boiled form with fish curry, chicken curry, beef curry or chutney. But this version has tapioca and beef cooked together with spices as a one pot meal hence the name biryani.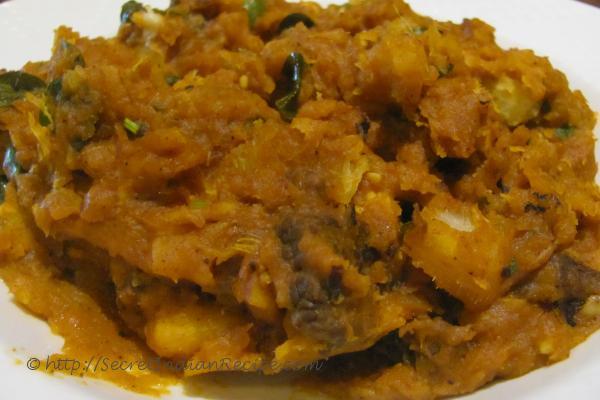 Ingredients:
Tapioca- 1 kg
Beef- 500 g
Shallots- 25 g
Garlic- 25 g
Ginger- 1 inch piece
Green chilies- 6
Curry leaves- 2 sprig
Coriander powder- 1 tbsp
Turmeric powder- 1/2 tsp
Chili powder- 1 tsp
Garam masala- 1 tsp
Salt- to taste
Coconut oil- 3 tbsp
Mustard seeds- a pinch
Dry Red Chilies- 2
Water- 2 cups
Directions:
Clean the tapioca by removing the skin. Chop it to bite size pieces.
In a pressure cooker heat 2 tbsp oil and saute the minced shallots and garlic along with 1 sprig of curry leaves.
Once the shallots brown add the finely sliced green chilies and ginger.
When the ginger starts to brown add turmeric, coriander, chili and garam masala powders.
Saute for 3-4 minutes and add the beef followed by salt. Add 1 cup water and cook the beef up to 4 whistles.
Meanwhile in another vessel boil the tapioca with a pinch of salt and turmeric powder.
Cook the tapioca till it is well cooked and drain the tapioca.
Once the beef has cooked heat a pan and add the remaining oil.
Add the curry leaves and mustard seeds. Once the mustard splutters add the dry chilies.
Add the cooked beef to this pan without the gravy and saute for 4 minutes before adding the tapioca.
Use a masher and mash the tapioca and cook it with the beef. Add 1/4 cup boiled water to mash the tapioca.
Add a dash of garam masala and cook the tapioca and beef till the water content dries up and the tapioca is well mashed.
Garnish with crisply fried curry leaves and freshly chopped onion rings.
Other Indian Recipes that you may Like !