Kadachakka Erachi Curry (breadfruit Cooked With Beef)
Yet another classic from mom's side of the family. I love breadfruit maybe because it is rare and not available all throughout the year. Though it is called breadfruit it is like a small jack fruit and hence in Malayalam we call it kadachakka. Chakka means jack fruit in Malayalam. Mom would add roasted coconut paste to this curry but I was in no mood to grate coconut so I skipped this step and it tasted equally good. I think with meat and vegetables cooked together it is always the flavor of the meat that makes the vegetable that is paired taste awesome. And with breadfruit its sweet flavor gets even better when cooked in the fat of meat. Non-beef eaters can opt for mutton.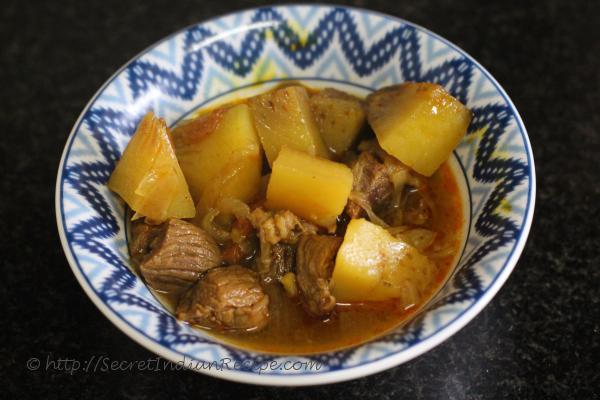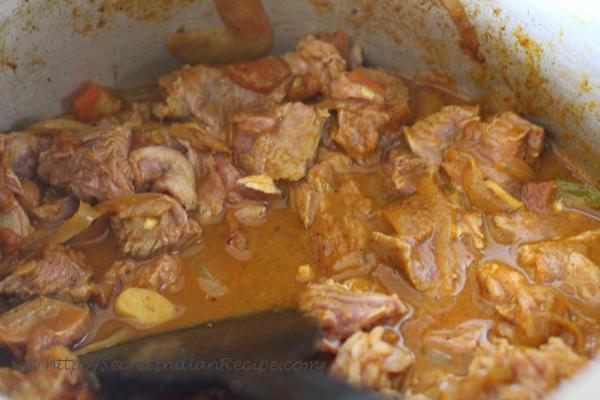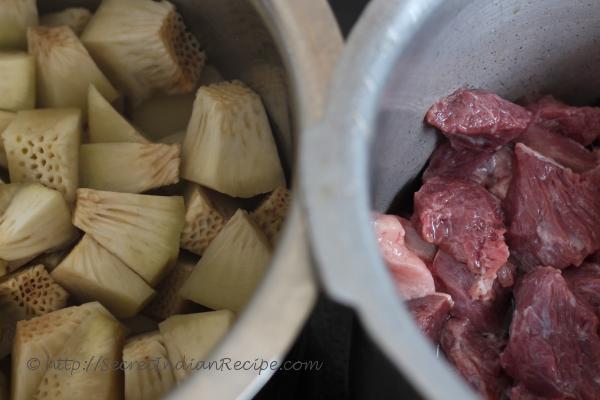 Ingredients:
Breadfruit- 2
Beef- 500g
Onions- 2
Garlic- 7 cloves
Ginger- 1 inch long piece
Green Chilies-4
Tomatoes-2
Chili powder- 1 tsp
Coriander powder- 1 1/2 tbsp
Garam masala- 1/2 tsp
Turmeric Powder- 1/2 tsp
Coconut oil- 3 tsp
Curry leaves- 6-8 leaves
Vinegar- 1 tsp
Directions:
Clean and wash the meat. Peel the outer skin of the breadfruit and chop it into medium size pieces.
Take out the center part of the breadfruit it will be hard and inedible. Ina pressure cooker heat some oil add the sliced onions, sliced green chilies, ginger and garlic along with the curry leaves.
Saute till the onions are translucent and add chopped tomatoes followed by salt. Once the tomatoes break down add all the spice powders.
After roasting the spices for 4 minutes add the meat and 1 tsp of vinegar. Vinegar helps in making the meat tender. Add 1 cup water and pressure cook the meat up to 4 whistles.
Meanwhile boil the breadfruit in another pan with a pinch of salt and 1 cup water for 5-8 minutes.
Once the meat has cooked add the cooked breadfruit to the meat and cook for 10 minutes or pressure cook again up to 1 whistle.
Serve with rice or rotis.
Other Indian Recipes that you may Like !