Naan Qaliya
Basically this dish come originally from Aurangabad , from the ancient time of Aurangzeb and Mohammed Tughlaq . Well this dish is made with Mutton leg and shoulder and was eaten those day by soldiers .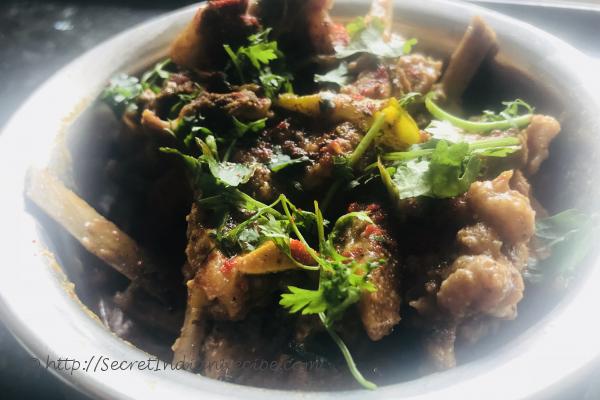 Ingredients:
1.5 kg Mutton
3 sliced onion
2 tbsp Ginger Garlic Paste
1 tbsp Turmeric Powder
1 tbsp Cumin Powder
1 tbsp Coriander Powder
1 tbsp Red Chilli powder
2 tbsp dessicated coconut
1 tbsp Poppy seeds
2 cups yogurt
1 tbsp Hommade Garam Masala
3 tbsp bhilawe ki chirongi
250 ml oil
Salt to taste
4-5 green chillies
Coriander to garnish
Directions:
Firstly was the mutton and keep aside . Dry roast dessicated coconut and poppy seeds and make a paste using water . Remove in a bowl . Take 1 onions and cook oin a tbsp Of Oil roll brown . Make brown onionpaste and keep aside . Next dry roast chirongi and make paste with water and keep aside . Take a degchi , add Oil and heat . Add mutton with 2 sliced onions and mix well . Add all the dry spices and ginger garlic paste leaving garam masala and cover and cook for almost 45 minutes . Open and check Mutton . Add curd and mix well and cover and cook till it's tender . Then add onion paste and mix well , add dessicated coconut paste and mix well . Lastly add chirongi paste . This will add colour and thickness to the mutton . Mix well . Add garam masala and coriander . Check the consistency . It should be semi liquid .
Footnotes:
Garam masala 2 green cardamom 2 black cardamom 2 Cinnamon 1 bayleaf 1 star anise 3 Cloves 1 tsp peppecorns 1 small nutmeg 1 tsp Shahi jeera