Caramel Til Chikki (sesame / Til & Sugar Chikki)
Makar Sankranti is one of the few festivals that falls on the same day in different parts of India. This festival is celebrated based on the solar positioning of the sun making its way in to "Makar" the new month and celebrating the beginning of harvest season... This festival has many names, Pongal, Lohri and in Nepal its called - Maghe Sankranti. Til is the core ingredient in any sweets and dishes prepared on this day! Here we have made a crispry caramel chikki / Patti.. Check out the recipe on secretindianrecipe.com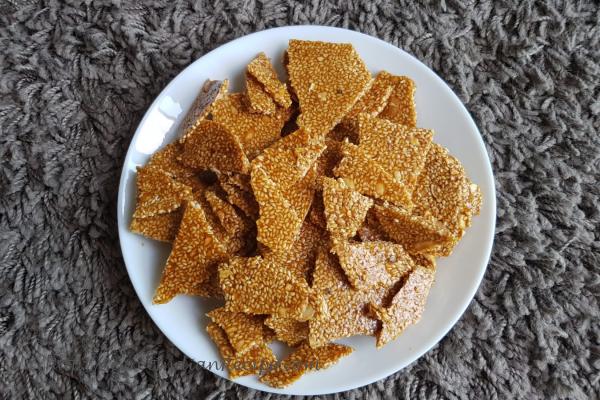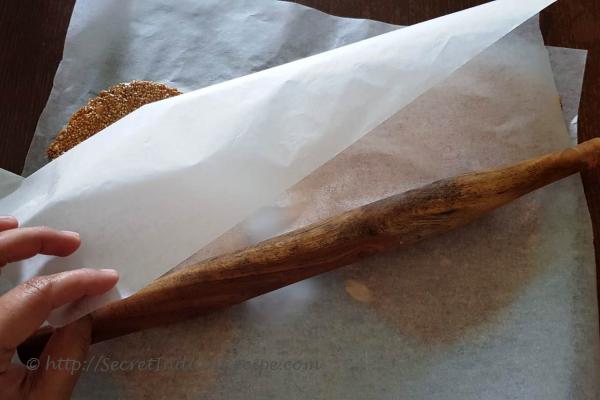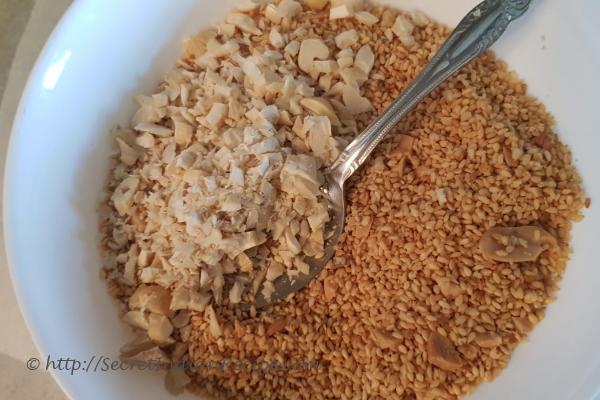 Ingredients:
Til or sesame seeds - 1 Cup
Brown Sugar or regular Sugar - 1/2 cup
Roasted Peanuts - 1/4 cup
Roasted Cashewnuts - Few (handful)
Directions:
In a pan dry roast sesame seeds till they start popping. Keep stirring continuously while roasting them as they tend to burn quickly
Once roasted (the aroma of the seeds will fill up your kitchen when roasted) keep them aside
In the same pan add sugar and let it caramelize on low heat (this may take a good 10-15 mins). You may also increase the heat for faster melting of sugar, but if you do so, mix the sugar in between as it may also burn
While the sugar melts, take roasted peanuts and cashew-nuts and roughly chop them. You may also use a mortar and pestle to pound them into bigger chunks. Remove and set aside
Not take 1/2 of the sesame seeds that you have roasted and using a mortar and pestle pound the seeds to a powder. This gives a great texture to the chikki. Now mix together the ground sesame power, the roasted semase seeds, the pounded peanuts and cashew nuts. Now the following few steps need to be done super quick
Check the sugar, once the sugar has completely melted and is liquid consistency add this sesame and nut mixture to the sugar. Quickly give it a mix. Once its all combined spread the mixture on a butter paper ot baking sheet on the kitchen platform.
Use another baking sheet to cover on top and using a rolling pin flatten the mixture into thin strips. (roll as thin as you can ) . Remember you can only roll it when its hot so be very quick.
Once rolled. Remove the top baking sheet and leave the chikki in front of fan to cool down. Once cooled, remove from paper and break it into small bite-sized pieces
And you caramel til ki chikki is ready!
Footnotes:
Do not use plastic use only baking sheets