Bariwali Dal (yellow Lentil Cooked With Lentil Dumplings)
It is a simple vegetarian dal recipe that has bari and various spices. Bari or lentil dumplings are part of daily cooking in Uttarpradesh and other northern states in India. Bari is made by a mixture of various grounded lentils and spices and is then sundried and hence adding bari to any preparations adds flavor and spice to it.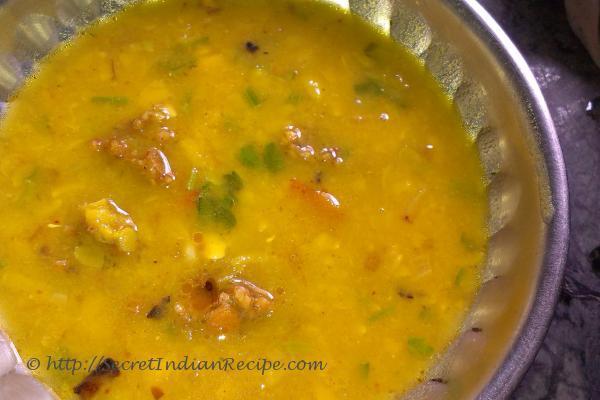 Ingredients:
Rahar dal ( yellow lentil) – 1 cup
Salt – 1 tablespoon
Turmeric powder – 1 /2 tablespoon
Mustard oil – 1 tablespoon
For tampering
Onion – 1 piece ( chopped)
Tomato – 1 piece (chopped)
Ginger and garlic – 1 tablespoon (finely chopped)
Green chilli – 2 pieces
Bari – 8 pieces
Green coriander leaves – ¼ cup (chopped)
Refined oil – 2 tablespoon
Ghee – 1 tablespoon
Directions:
Wash the rahar dal and put it in a cooker. Add 2 cups of water, turmeric powder, salt and mustard oil and cook upto 3 whistles.
For tampering heat refined oil and fry the bari on low heat till it becomes light brown. Take out the bari and put onion in the remaining oil. Sauté for few seconds and then add chopped ginger garlic, tomato and green chilli. Saute for 2-3 seconds and then add the green coriander leaves and bari. Pour the entire thing in cooked dal and again put the lid on. Laeve it for 2-3 mintues till the bari becomes soft. Served hot with plain rice.