Chettinadu Kozhi Kuzhambu (chettinadu Chicken Curry)
Chettinad is to South what Kohlapur is to the West. This region is known for its spicy curries. I had uploaded a kozhi rasam recipe sometime back. You will find the use of pepper, green chilies and chili powder abundantly in this cuisine. I guess the fiery heat in food counterbalances the heat outside in the Chettinad region. Heat kills heat goes the popular saying. So try some pepper rasam and chettinad chicken.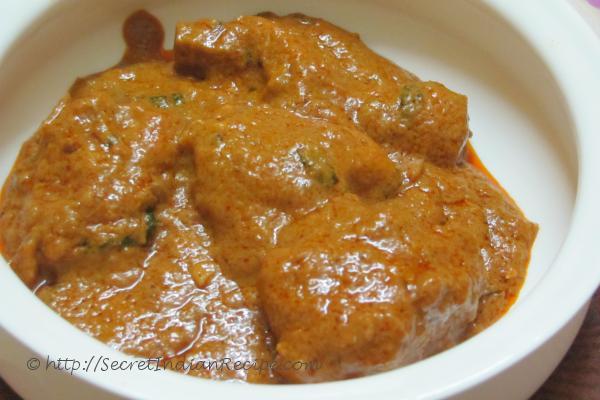 Ingredients:
Chicken- 1 kg
Shallots- 10 pods
Tomatoes- 3
Coconut Milk- 1 cup
Salt- to taste
Curry leaves- 3 stalks
Turmeric powder- 1 tsp
Oil- 3 tbsp
Green Chilies- 3
Garlic- 8 cloves
Ginger- 1 inch piece
Poppy seeds- 1 tsp
Coriander seeds- 1 1/2 tbsp
Dry chilies- 8
Pepper corns- 1/2 tsp
Fennel seeds- 1/2 tsp
Green Cardamoms- 2
Cinnamon- 1 inch stick
Oil- 1 tsp
Warm water- 2 tbsp
Chopped coriander leaves- 1 cup
Directions:
The procedure for this curry is divided into three parts. Firstly heat 1 tsp oil and roast the cinnamon, green cardamoms, fennel,pepper corns, dry chilies and coriander seeds.
Grind these spices to a fine powder. Soak the poppy seeds in 2 tbsp warm water for 15 minutes.
Grind the garlic, green chilies, ginger and poppy seeds to a fine paste.
Heat 3 tbsp oil in a pan and saute the shallots and curry leaves. When the shallots begin to brown add the chicken and saute for 3-4 minutes.
Now add the chopped tomatoes followed by salt and saute till the tomatoes get mashed completely. Now add the ground poppy seed spice paste and cook the chicken over low flame.
Add the coconut milk when the chicken is cooked. Finally add the dry spice powder that was roasted and ground and bring the curry to a boil.
It is optional to temper this curry, if you love tempering add 1 tsp mustard seeds, 2 dry chilies and 2 stalks of curry leaves to 3 tsp oil and when the mustard splutters pour the tempering over the chicken curry.
Garnish with coriander leaves and serve with rice.
Other Indian Recipes that you may Like !