Chicken Dhansak (chicken Cooked With Lentils And Vegetables Parsi Style)
I am a fan of colonial and vintage recipes these days. Recipes that are going extinct or unknown. I love experimenting with them these days. Check out my recipe of Dak bungalow chicken here, it was part of my experiment to learn these vintage recipes. Parsis community has shown their strength and presence from times immemorial their cooking is heavily influenced by Persian ways. Dhansak is the most popular recipe in Parsi cuisine. I love it with mutton mostly though chicken version is not bad either. I would describe this dish as a potpourri of ingredients with meat, squashes, lentils and spices. It has a lot of protein. The vegetarian version is just the same minus adding chicken.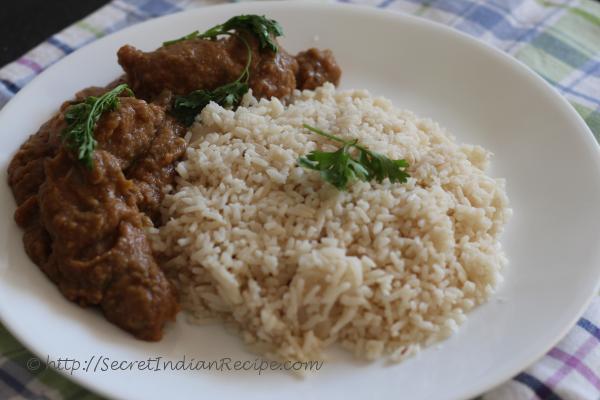 Ingredients:
Chicken- 1 kg
Split pigeon peas (Toor Dal)- 1 cup
Split red lentils (Masoor dal)- 1/2 cup
Split green gram (Moong Dal)- 1/2 cup
Large Brinjal- 2
Pumpkin- 100 g
Capsicum- 2
Ginger-garlic paste- 5 tsp
Fenugreek seeds- 1 tsp
Sesame seeds- 1 tsp
Coriander seeds- 1 tbsp
Cumin seeds- 1 tbsp
Nutmeg- 1/4 tsp
Cinnamon- 1 inch long piece
Peppercorns- 7
Bay leaf- 2
Cloves- 6
Onions-3
Salt- to taste
Lemon juice- 3 tbsp
Chili powder- 2 tsp
Turmeric powder- 2 tsp
Garam Masala- 2 tsp
Oil- 3 tsp
Water- 2 cups
Directions:
Soak the dals overnight after washing them thoroughly. Cover water up to the top of the dals to soak them.
Marinate the chicken with 3 tsp ginger-garlic paste and salt overnight or for at least 4-5 hours. Use freshly minced ginger-garlic paste if possible.
Prepare the Parsi Dhansak masala by roasting sesame seeds, fenugreek seeds, cumin seeds and coriander seeds. Grind these spices coarsely along with cloves, bay leaf, peppercorns, cinnamon and nutmeg. This is your Parsi Dhansak masala.
Now chop the pumpkin, brinjal, capsicum, onions and start the pressure cooker. Heat oil and saute the onion and ginger-garlic paste first.
Add 3 tsp of the Dhansak masala powders along with the chili, turmeric and garam masala powder. Saute the powders till they are well roasted and then add the lentils and vegetables.
Add water, salt and pressure cook up to 2 whistles. In another pot add 1 tsp oil, saute the chicken for 5 minutes.
Add 1 cup water and cook the chicken for 15 minutes. Once the pressure of the cooker has settled use a hand blender and mash the vegetables and lentils.
You can use the chicken stock while blending the lentils and vegetables this will impart more flavour than adding water.
Add the chicken and lemon juice to the pureed gravy and cook the chicken with the gravy for 10 minutes. Switch off the flame and serve with Parsi brown rice and Kachumber salad.
Footnotes:
Adding 2 bunch of methi leaves with the vegetables will bring more flavours though it can be a bit bitter. I did not follow this step.
Other Indian Recipes that you may Like !