Chicken Makhanwala / Murg Makhani (butter Chicken)
Butter chicken is popular not only in India but its a globally loved dish. Its origins can be traced back to Delhi, during the Mughal rule. I bring to you one of the most easy ways to make butter chicken @ home.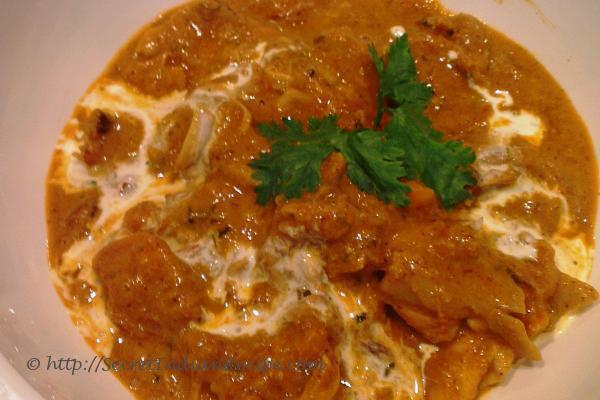 Ingredients:
1 kg Boneless Chicken pieces (Thigh meat only)
1 Cup Yogurt
4 Tsp Red Kashmiri Cili Powder
2 Tbsp Ginger garlic paste
1 Tbsp turmeric
3 Tbsp Salt ( For Marinade and Sauce)
3 Tbsp Finely chopped Garlic
2 Tbsp Finely Chopped Ginger
2 Tsp Garam Masala Powder (preferably Homemade)
2 Tbsp Butter Chicken Masala (Can be found in any Indian Grocery store)
6 Medium sized tomatoes roughly chopped
4 Medium sized onions finely chopped
10 Cashew nuts soaked in water
2 Tbsp Brown sugar
6 to 8 Tbsp vegetable oil for cooking
3 Tbsp Kasturi Methi (Dried Fenugreek leaves)
1/4 cup heavy cream
Freshly Chopped coriander for garnishing
Directions:
For Marinade Take cleaned chicken in a glass bowl, add ginger garlic paste, 2 Tbsp Red Kashmiri powder, Turmeric, 2Tbsp Salt & Yogurt mix well and set aside in the refrigerator to marinate for minimum 2-3 hours
For the Kebabs After the chicken is well marinated for 2 hours. Preheat the oven at a high temperature (about 200 degrees) for 30 mins. Once preheated, spread out the marinated chicken in a tray and place it in the oven @ 140 degrees for about 20-30 mins.
While the Chicken kebabs are cooking, start preparing your sauce/ gravy.
In a deep cooking pot, heat oil. When its smoking hot, add chopped Garlic, ginger, Onions and about a tsp of Salt. Cover and cook till the Onions soften
While the onions are cooking, blend Tomatoes, and soaked cashew nuts in a mixer/blender to fine puree. It may be a bit watery, but that's ok as we will reduce it on heat.
When onions are softened, add the remaining Red Kashmiri chili powder, turmeric, half a Tbsp salt mix well and add in the tomato, cashew nut puree.
Cover and cook till all the ingredients come together and form a saucy consistency mix. this may take about 15 mins on medium heat.
Check on your chicken in the oven, by this time it should be cooked well. remove from oven and keep aside. You will see the chicken may have oozed out a lot of it's jucies. See 2nd pic
To the sauce add the Butter chicken mix and Garam masala. Mix well and let it cook for another 10 min, and add sugar.
When the sauce looks well cooked and combined together check the seasoning, you may need to adjust salt as per your liking.
At this stage the cooked chicken goes in with all the juices that have been left behind in the tray. Stir in well, add Kasturi methi and half of the chopped coriander.
Mix well for about 5 minutes more and turn off the heat. Quickly stir in the heavy cream. Keep the pot covered for 5 minutes for the cream to integrate with the sauce.
Garnish with more coriander leaves and cream, serve hot with Naan or Jeera rice
Footnotes:
You may serve the Chicken kebabs as a starter dish as well
If you wish to get the bright red color that you see in restaurant add few drops of the red food color
If you have Tandoori Masala, that can also be added to the marinate to make Chicken Tikka Masala.
Other Indian Recipes that you may Like !