Chingudi Sukhua Tarkari (dry Prawn Curry)
Dry fish is popularly known as Sukhua in Odisha. These are highly salted and semi-dried. It has typical fishy smell so this recipe is especially recommended for seafood lovers. It is usually served with steamed rice.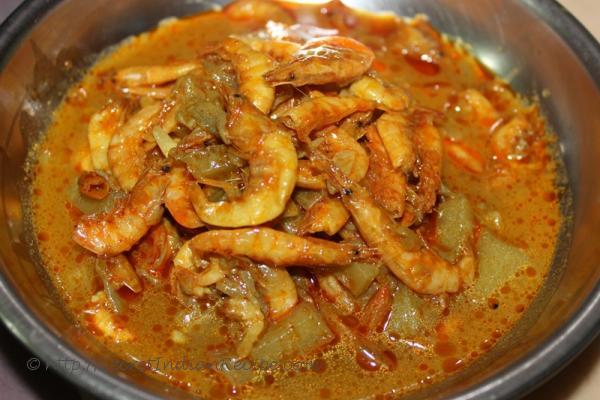 Ingredients:
Dry prawn fish 2 cups
Onion 1piece (chopped)
Tomato 1piece (chopped)
Potato 1piece (diced)
Turmeric powder 1/2teaspoon
Red chilli powder 1/2teaspoon
Salt to taste
Rice bran oil 3tablespoon
Water 1cup
Directions:
Wash and drain the dry prawn fish.
Heat 1 tablespoon oil, add drained dry prawn fish and a pinch of salt to it, fry for 5 minutes. Remove and keep aside.
Again heat 2 tablespoon oil, add chopped onions and fry till it turns golden, add ginger garlic paste, Turmeric powder, Red chilli powder and stir.
Add chopped tomatoes and fry till oil separates out.
Add diced potatoes and stir for 5 minutes, add water to it and allow boiling for 2-3 minutes.
Now add fried dry prawn fish to it and cook it for 5 minutes more.
Ready to be served with hot rice.
Footnotes:
Dry fish are normally salty, so add very little salt and just for the gravy. If required then only salt to be added.
Other Indian Recipes that you may Like !