Kolambi Bhaat (prawn Rice)
kolambi Bhaat is a Maharashtrian dish from the Konkan region. It is basically prawns cooked with rice and coconut milk.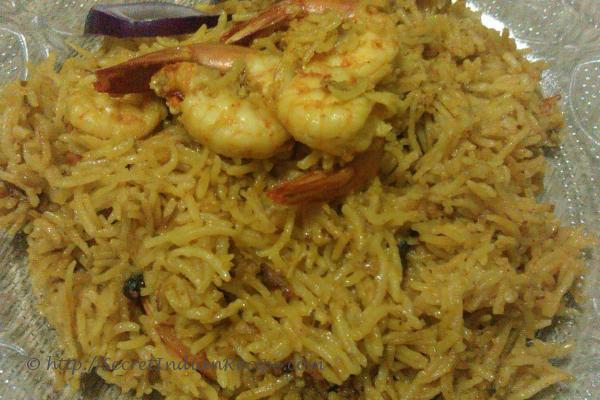 Ingredients:
2 Cups Basmati Rice
2 Cups coconut milk
1 cup medium size prawns cleaned and shelled
2 medium sized onions finely chopped
2 cups water (to cook rice)
1 tbsp ginger garlic paste
1 tsp garam masala
2 tsp red chilli powder
2 tsp turmeric powder
2 tbsp coriander leaves finely chopped
1 tsp mustard seeds
1 tsp cumin seeds
2 tsp biryani masala
2& 1/2 tbsp salt
2 Cinnamon sticks
2 black cardomon
5 to 6 peppercons
2 bay leaves
oil
extra turmeric and salt for marination
Directions:
Marination: Take prawns in a bowl, add salt and turmeric and keep aside for about an hour. This helps in getting rid of the fishy smell.
- In a cooker take oil, once hot add the cinnamon sticks, cardomons, bay leaves, after a few seconds add mustard seeds, cumin seeds. Wait till the seeds splutter and add the onions.
- Let the onions cook till golden brown, add turmeric, red chili powder, ginger garlic paste and biryani masala. Cook for 1 to 2 minutes till it all ingredients mix well
- Now add the marinated prawns, once they start turning red add the rice and keep stirring to mix all ingredients well.
- Add water, salt , garam masala and coconut milk stir well cover and cook.
- Garnish with coriander and serve hot