Modak - Ukdiche Modak (sweet Coconut And Jaggery Rice Flour Dumplings)
Modak is Ganpati Bappa's favorite food. Modak can be made in a variety of ways, but the most liked is Ukdiche Modak. A sweety dumpling made from fresh grated coconut and jaggery, and the soft covering is made from rice flour. Here is simple modak recipe.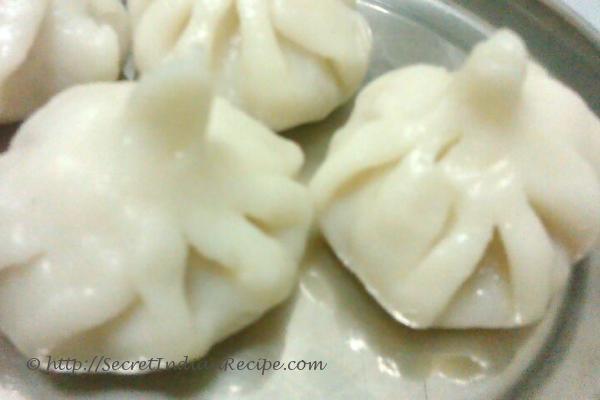 Ingredients:
1 Cup Rice Flour
1 1/2 Cup Water
1Tbsp Ghee (Clarified Butter)
1/2 Tsp Salt
Pinch of Cardamon powder
Pinch of Zaifal powder (Nutmeg)- Optional
2 Cups Fresh grated coconut
1 1/2 Cup Jaggery
1/2 Tsp oil
Directions:
Heat water, ghee, oil and salt. When it starts to simmer, add in the rice flour. The flours quickly starts setting and forming into a dough. Vigorously keep stirring the mixture to avoid lump formation
The dough takes just about 2 minutes to cook. When the dough is lump free and soft remove from heat and place on flat clean surface. Knead the dough quickly using back of a bowl or a flat spoon. Place the dough in a bowl, Cover with wet cloth and set aside
Heat a thick bottomed pan, add in grated coconut and stir for a minute. Add in the jaggery and keep stirring the for about 5 minutes. You will see, the jaggery slowly starts melting and coconut starts getting softer
When the mixture turns a bright golden brown add the cardamon and or zaifal powder, give it a mix, remove from heat and set aside to cool
While the mixture cools, take the dough, apply a little oil on your palm and fingers and divide the dough into 5 to 6 small round portions
To make modak, take one portion of the dough, apply a little more oil on your palm to avoid the dough to stick. Flatten the dough on your palm to make a flat circle a little bigger than your palm size (similar to paratha dough)
Place a spoonful of the coconut, jaggery mixture in the center, now to make the petals, pinch the edges of the coconut using your index finger and middle finger. Make 5 to 6 petals and gather them on top and seal. You will see the petal form a flower like pattern on top
Place all the prepared modaks in a steamer, (you may also use idli steamer or electric rice cooker steamer) and steam four 7 to 8 minutes. The modaks turn slightly translucent then cooked through
Drizzle pure ghee and Serve hot !
Footnotes:
You may also deep fry the modaks instead of steaming