Kadboli #diwalirecipe #myregionaldiwalirecipe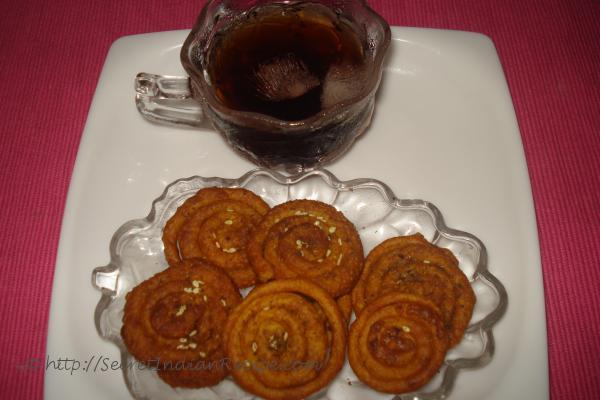 Ingredients:
1 cup Kadboli Flour (see footnotes)
1 cup Water
3/4 tsp Sesame seeds
1/2 tsp Ajwain (Carom Seeds)1tsp turmeric powder
1 tsp red chili powder or to taste
1tsp turmeric powder
1/4 tsp Hing (Asafoetida)
1/2 tsp salt or to taste
1 tsp oil
oil for deep frying
Directions:
Heat the water into a medium sized pan. Add sesame seeds, ajwain, red chili powder, turmeric powder, hing, salt and 1 tsp oil. Mix well.
Once water starts boiling, turn off the heat. Add Kadboli flour and mix. Cover the pan and let the steam infuse in the dough. Keep it covered for 5 to 8 minutes.
Then sprinkle very little warm water and knead the dough.
Divide the dough into 1 inch balls. Roll each one into a short log of (1 cm thickness).
Start from one end and shape it like a coil. stick the second end to the kadboli, so that it won't open when frying.
Fry kadboli over medium-high flame first.You will notice lots of bubbles when you add the kadboli into hot oil,lower the heat.then graduall, kadboli will start to go downward in the oil.Fry till done .
Footnotes:
Kadboli flour : 500gmRice,100 gram Black chickpeas,100gm Urad dal, with peels ,1/2cup wheat,25gm coriander seeds and 2tsp cumin seeds are roasted lightly and separately ,then ground into fine powder.