Coconut /mango Curry With Shrimps --- Kharavani
This is a typical recipe of my community. It is best eaten cold the day after making it. It is a good summertime dish. It is a lot of work but worth it. I usually make lots of it and freeze it in batches enough for one time for us.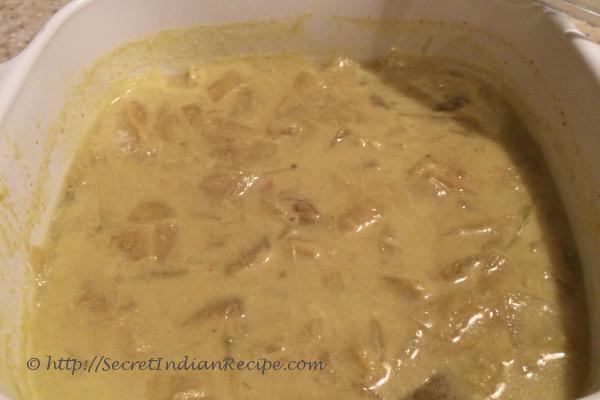 Ingredients:
1 whole coconut grated (if available may use ready grated coconut but use fresh only) and then extract batches of milk one thick and one thin
2 large onions sliced
1 average size mango peeled and cut into cubes (use the seed as well during cooking then discard after it is cooked). Mango should be partially ripe only.
½ tsp turmeric powder
1 tsp red chili powder or to taste
1 medium tomato if desired. Cut into very small pieces
1 pound shrimps medium( 31 to 40 per pound) size peeled and deveined.
salt to taste
2 tbsp oil.
2 tsp gram flour (besan)
Directions:
Heat the oil in 3 quart sauce pan
Add the mango and onion and the turmeric and chili powder to it and cook till mango and onions are soft.
Add the thin coconut milk and the shrimps and let come to full boil (be careful it does not boil over)
Simmer for 15 to 20 minutes on LOW heat. Stir occasionally.
Mix the besan with the thick coconut milk making sure no lumps form, and add to the above curry simmer for 10 more minutes to cook the besan.
Footnotes:
Make sure you have extracted two types of juice from the coconut one the first time that is thick and second time will be thinner. Add one cup hot water to the grated coconut each time.
You can adjust the gravy quantity by adding more water to the pot rather than using more water to extract juice from coconut.
Alternate to mango you may use tomatoes. Then use at least 3 to 4 tomatoes.
Other Indian Recipes that you may Like !