Chole Puri (chickpea Curry With Indian Fried Breads)
Chole puri is a north Indian dish. It can be served with Bhaturey also.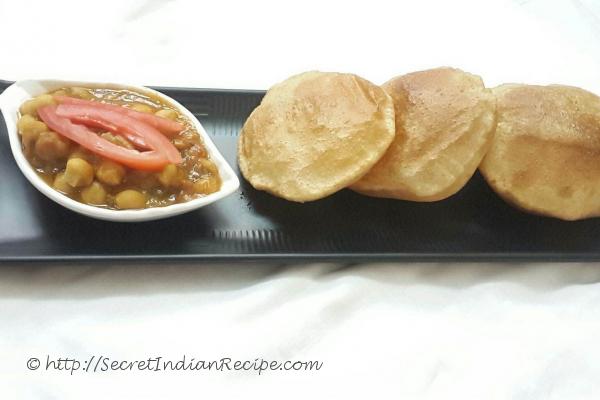 Ingredients:
250 gms Chick peas
2 medium size Onions
2 medium size Tomatoes
half small size Tomato
2 tablespoon Oil
1/4 spoon Cumin seed
2 to 3 pieces of Cloves, Black pepper & Cinnamon
1?4 teaspoon Turmeric powder
1 teaspoon Coriander powder
1 teaspoon Red chilli powder
Salt as per taste
Fresh Coriander leaves
1/2 teaspoon ginger garlic paste
For Puri:
Quarter kg wheat flour
oil for frying
Directions:
Wash the chick peas and soak it for overnight.
Add sliced onions, turmeric powder & salt to the chick peas before cooking.
Pressure cook for 15 to 20 mins.
leave the cooker aside for cooling.
Take another pan and place it on medium heat
Add oil to the pan.
Once the oil is hot add cloves, cinnamon, black pepper & cumin seeds.
As soon as they start releasing their aroma, add tomatoes & ginger garlic paste.
Let the tomatoes cook till soft.
Now add the turmeric, chili & coriander powder.
Cook till it forms a fine paste,
Add the boiled chick peas & fresh coriander leaves.
Cook for 10 more mins
Garnish with thin slices of tomatoes.
For Puri, knead the flour with required water to make the dough.
Heat oil in a pan on medium flame.
Divide the dough into equal size of 2 inch each balls.
Now roll balls into small puries and fry it till light brown.
Chole puri is ready to be served.