Green Peas Masala (kerala Style Dried Green Peas Curry)
The black chickpeas and dried green peas are two favourite legumes used widely in Kerala preparations. I rarely see any Keralite use fresh green peas for that matter even when they move to cities that have them in abundance, they stick to dried peas. The dried green pea is used in stews, cooked with minced meat or in this typical style we refer to as green peas masala. We have it with puttu, appam, paranthas and rotis. This style that I do is a bit tedious because it uses roasted coconut and is hence a varatharacha curry (roasted ground paste of coconut). However, if you are aversive to coconut or find this process cumbersome you can follow the other steps and have a simple green peas masala.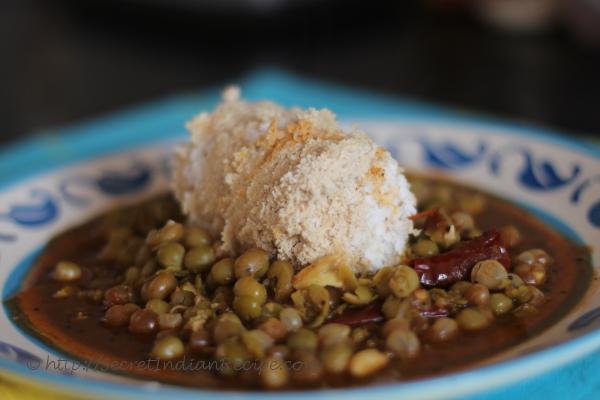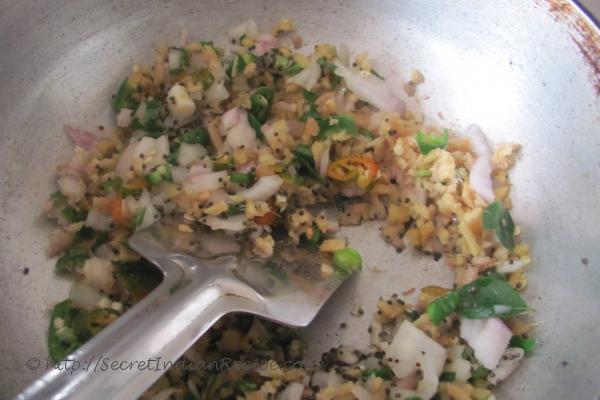 Ingredients:
Dried green peas- 200 g
Shallots- 1 cup
Garlic- 10 cloves
Grated coconut- 1 cup
Coriander powder- 1 tbsp
Chili powder- 1 tsp
Turmeric Powder- 1/2 tsp
Garam masala- 1/2 tsp
Salt- to taste
Tomatoes-2
Curry leaves- 5-6
Mustard seeds- 1 tsp
Coconut oil- 3 tbsp
Dry red chilies-4
Directions:
Soak the dried green peas overnight or at least for 3-4 hours before you start cooking.
Dry roast the grated coconut in a pan till it browns completely. Do this on medium flame and try not to burn the coconut.
When the coconut has been roasted sufficiently it will give away a roasted aroma and you will get a golden brown colour that is when you should stop.
Add all the spice powders to the roasted coconut and saute for a minute or two before you take the coconut off the flame.
When the coconut and spice mix cools down grind it to a fine paste in a wet grinder.
Heat oil in a pressure cooker and add the curry leaves, mustard seeds and dry chilies.
When the mustard sputters add the minced shallots and garlic and saute till the garlic browns.
Now add the ground coconut paste with spices and saute for 4-5 minutes on medium heat.
Add the chopped tomatoes followed by salt and saute till the tomatoes wilt and now you can add the soaked peas.
Pour 1 cup water and pressure cook up to 3 whistles. After the pressure settles, open the cooker and check if the salt is sufficient.
You can add half cup water now and let the curry simmer for 5 minutes if you need more gravy. Else you can take the curry off the flame.
Serve with puttu, appam or rotis.
Footnotes:
You can do the tempering in the end after you open the pressure cooker. You can then add the tempered curry leaves, dry chilies and mustard seeds to the pressure cooked curry.
Adding 200 ml coconut milk will give thicker gravy. You can opt for this and skip the roasted coconut base. Add the coconut milk after pressure cooking is done.
Onions can be substituted for shallots.