Hariyali Matar (green Pea With Coriander Gravy)
Hariyali matar is vegetarian side dish recipe. It is almost a daily preparation in Uttarpradesh during winter season due to availability of fresh peas. In some parts of Bihar this recipe is also known as 'Matar Kacahloo' with a dash of limejuice added.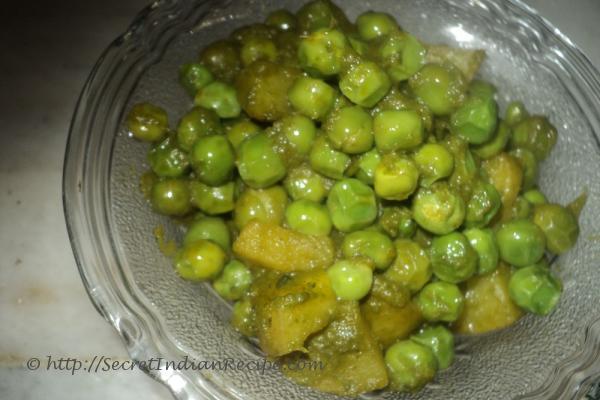 Ingredients:
Potatoes 2 pieces (chopped in ½ inch size)
Hare matar(green peas) 250 grams (9 ounce)
Coriander leaves 25 grams (1 ounce)
Garlic 5-6 cloves (one can use green garlic if available)
Onion 1 onion
Green chillies 2 pieces
Salt 1/2 tablespoon
Mustard oil 4 tablespoon
Directions:
Peel the matar and take out the green peas.
For cuury paste grind coriander leaves, green chillies, garlic and onion together to form a paste.
Heat mustard oil in a karahi and and fry the potatoes light brown.
Put the paste in the remaining oil. Add salt and green pea and mix well. Sauté the paste for about 5 mintues on low flame and then put the lid on. Cook on low flame for 10 mintues. Check if the potatoes are done. Serve hot with chappati.